Blog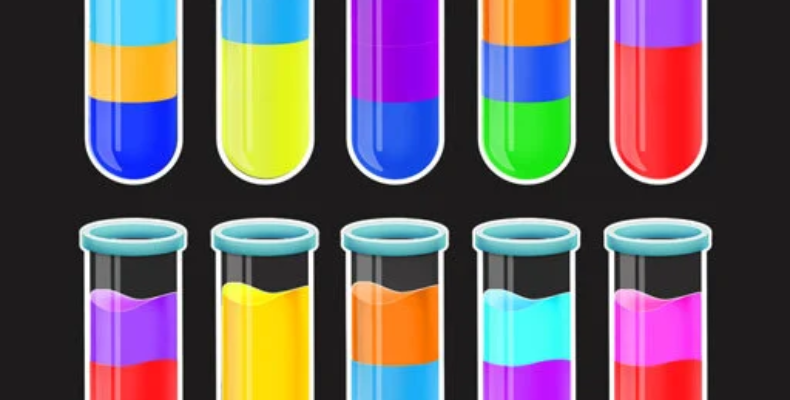 Best Water Color Sort Games
Water Color Sort Games are actually a puzzle games where you can see an interesting premise. In this game, you have to empty the test tube contents. Besides, you have to separate different colors into single-color recipients. During this, ensure that you are not running out of moves or spaces. This fantastic game includes a few easy-to-access controls and very satisfying gameplay. Hence, your target should be to sort the liquids available in many receptacles.
You need to separate liquids based on color. Hence, the benefit is that colors will not get mixed. But moving them around from one flask to another is necessary to free up space. Easy controls of the game mean that players are capable of enjoying the playability from the beginning of the game. When you start to separate the colors in the test tubes, you need to click on the tube which you are willing to empty.
Then, click on your desired tube to tip the contents into. It changes the 1st layer of color in the tube by keeping other layers intact. The final target is getting every tube with only one color inside though a few tubes end up empty. When you complete a new level, it will add new tubes and colors. Thus, it becomes tough to progress. Just go through this entire article to learn about Water color Sort game and related details about this term like how to play this, the features of this game, etc.
What is water color sort game?
Water color sort game is a type of puzzle game where you have to sort liquids depending on color by mixing them properly. You need to continuously move the fluids into the right tubes until there remains only color in every tube. Hence, you have to think logically to discover your own path to make colorful water sorted. What makes the game special is that if you make any mistake or get stuck, the game will give you a hint or undo your last movement. You can share the game with your friends to see who completes the game first.
Best Water Color Sort Games Features
Color Matching Game Fun:
You can enjoy playing the puzzle game where you need to apply skills, focus, and strategy, using which you can match colors & solve games within some moves. In this case, if you want, test the distance you can cover by juggling many colors, patterns, and tubes in one level within a given period.
Solve logic puzzle:
If you want, you can enjoy the game with your friends and family. Playing this game, you will have endless logical fun. This game comes with an array of new levels. Hence, you should know that the number of balls & test tubes increases per game level. So, you must apply your gaming skill for sorting the same color in a single test tube.
How to play water sort puzzles:
You need to first find any two or more fluids of the same color located at the container's top. Then, you should move these to an empty container.
Do you know what you will do with the second empty tube? Ensure that you are not becoming quick to fill the 2nd empty container. In this case, you should move the object around until filling the second empty container with at least three parts of the same color.
Remember that colors positioned at the bottom are crucial. You should see the tubes' bottom layers on the board. Hence, you need to know that the visible colors at the bottom will be the last ones to gather in the same place. Now, it is possible to eliminate a few colors, which you can see from the list of those to put in the empty tube.
You must not get frightened to make a mess. It indicates that when you play the game at the harder levels, you must first mess up the colors in the containers. After that, your task is to untangle them when you reach closer to the level end.
Now, your job is to sort liquids to empty new containers. After that, sort colors to get new empty containers in the middle of each level.
Ensure that you think properly before filling them with the next color. You require the space here. If you try to collect color randomly, it can be a huge mistake. As a result, you will not be able to take any moves later.
You can think about your strategy when you play the puzzle game. It is one of the biggest advantages of educational games.
As soon as you have completed your first several moves, ensure that you take your time and implore your logic & strategic thinking. It helps you to plan ahead of the game. The increase in the difficulty level wants you to use logic & strategic thinking even more. Therefore, you have to start practising your thinking from the beginning.
You must look for the best water sort puzzle game. Several apps are free to play. Therefore, it is possible to test & download more than an app until finding the proper one. The game you are playing can be too slow or too fast for you. Besides, it can happen that the features are not preferable to you. Let's see the best watercolor sort apps.
Best Water Color Sort Games:
Color Water Sort:
You can separate various fluids with different colors into tubes using the puzzle. The app's smooth gameplay makes it one of the best apps. The quick gameplay and beautiful colors offer a beautiful classic design. If you are an advanced player, the game is perfect for you. The reason is that the difficulty level increases exponentially after the first few levels.
In addition, the game informs you when you don't have any moves. It helps you to save time also. Many apps don't do it. Besides, if you are a seasoned player, you must appreciate it. Do you know how quickly you can solve the puzzle? You will get a rating based on your performance on a scale of one to three stars. If you want some time to think, you have to hit the pause button. Otherwise, you can continue later or begin the game over again. Therefore, if you are looking for a fast-paced water sort puzzle, this one will be an ideal choice for you.
Water Sort Puzzle:
If you are fine with slower gameplay, but your main target is getting a cute design with less pressure, then you must go with this one. In addition, if you are a beginner, this water sort puzzle is for you. Due to the slower pace, you can get enough time to enjoy the game and make your next plan. The app allows you to play for free. However, you can go for another app if you want something more complicated.
In this game, as a player, you are unable to sort liquids from more than one container at a time. It is good for those who are beginners or playing with your kids. Instead of giving pressure to move fast, the game enables you to enjoy your experience. Every person wants to relax after a busy day. So, it is a good choice for those who want some chill with a cool water sort puzzle.
Water Sort Puzzle – Pour Water:
In this game, you must classify the colors in the glass until all colors become the same. This one is a very interesting game where you can train your brain. Remember that every water pipe comes with various color bars. It classifies the water. Then, you must pour water into every pipe to complete the game.
You can play the game in this way:-
First, puzzle the color. After that, your task is to pour water. Now, you should select any glass so that you can pour water into another glass.
Filling water is only possible when it is bonded to the same color and the glass has sufficient space.
Ensure that you don't get stuck into it. However, you can begin the level over anytime with a refill. Then, you can reply to it.
Features:
Control with one finger.
Multiple unique levels
Free & Easy To Play
No penalty & time limit;
Conclusion:
Now you know how to play water color sort game online. In this article, we have given the best water color sort games. Always try to use a game with fast-paced gameplay, smooth water sort, vibrant colors, dark mode, and unique design. The game apps are free to play and can be downloaded easily anytime.
Frequently Asked Questions:
Is there a water Colour sort game for PC?
You can use SortPuz, which is a tough water sort puzzle color game.
How can you play Water Color Sort for free?
It is possible to play Water Color Sort for free on Poki.
Can you play Water Color Sort on mobile and desktop?
The game can be played on PCs and mobile devices like phones and tablets.