Blog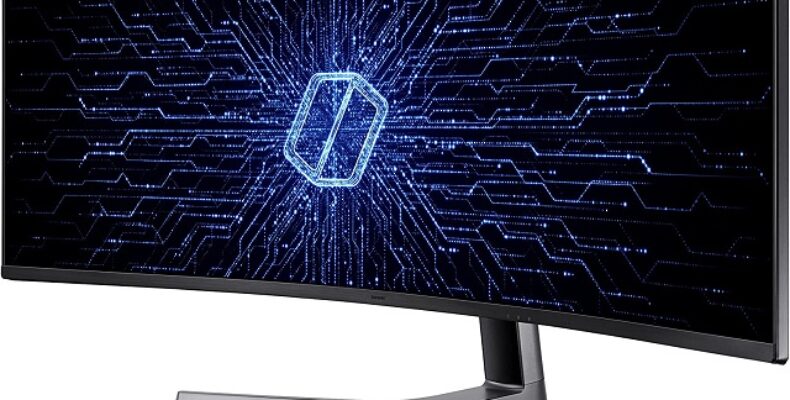 What to Look for in a Gaming Monitor?
If you want to use the best gaming monitor for your PC, you should know first what to look for in a gaming monitor. Several factors play a significant role in this case. A monitor for a gaming PC is called a "gaming monitor." These have quick refresh rates, low input lag, and large resolutions helping to offer the best graphics for your game. In addition, the recent models feature Nvidia's G-Sync or AMD's Freesync technology, allowing you to reduce screen stuttering and tearing. Thus, you can get a smooth picture while playing.
Several gaming monitor deals are available in the market. Therefore, you may face difficulties while choosing the right one, and you should consider these factors to purchase the best of all.
What To Look For In A Gaming Monitor:
Screen Size and Resolution of the Gaming Monitor:
The screen size of the device depends on the desk you have. Let's assume you have between 24-32″. Then, you should try to have a range of Full HD to 4K. Ensure that you have a higher resolution to offer a sharper, more detailed image.
It is the screen size that will determine the resolution. If you are willing to have something smaller, you can go with a 24″ Full HD display. If you want to use a mid-range model, use a 27″ model with 2560 x 1440 resolution, called 1440p or QHD, monitor. Finally, you can go with 32″ with a 4K resolution. Several options are available, like 4K 27″ and QHD 32″ displays.
We advise you to choose 27″ 1440p for gaming for many reasons than the theoretical improvements with larger sizes and higher resolution. If you use 24″ Full HD displays, you will get better benefits. Besides, when you move up to a 4K display, try to get the added processing required for powering it. All the additional pixels should be rendered. You should know one thing having more pixels are not better sometimes.
Don't use only these displays, as you can use ultra-wide and curved monitors, larger displays, or TVs. However, we don't advise you to use these unless you have a strong reason.
Ultra-wide monitors can cause other potential complications as these use less conventional resolutions. As a result, it can cause low refresh rates and longer response times.
Monitor- Curved and dual-screen setups:
Whether you are willing to have a larger display for your home, you should choose curved ones for immersion. Unfortunately, these have unusual resolutions for which all games are incompatible with a wide field of view. Generally, you will not find any seam in curved displays, whereas dual-screen setups come with a seam.
Refresh Rate and Response Time of Gaming Monitor:
While looking for a gaming monitor, ensure that you have checked out the refresh rate, measured in hertz (Hz). It reflects the number of times the monitor can refresh the screen per second. The more the number, the better result you will get. Standard displays and televisions can reach around 30 Hz and boost up to 60 Hz. If you want to use it for gaming, we recommend having 60 Hz as the bare minimum.
If you are willing to have the real-world explanation, go with the higher refresh rates. These are useful for gamers as they ensure that you see those things happening on the computer. For example, suppose someone is running in a game with a 30 Hz refresh rate in front of you. In this case, the image may not display where these are in the game. These seem like an incredibly short time differential, but you need excellent precision while playing games.
You should use at least 60 Hz as the bare minimum. However, several 144 Hz displays are available on the market. If you are a serious gamer, we recommend you use it highly. As you can see, the difference between 60 and 144 Hz improves the response times. Of course, you can use 240 Hz monitors also, whether you are willing to go for the top of the line. But still, we have to check if it can offer advantages for average gamers.
Whether the graphics and processing cannot reach these high frame rates, using a high-refresh-rate display will not give you many advantages. Ensure that your whole graphics pipeline is compatible with your resolution and refresh rates. Besides, if you are willing, bump down a resolution in settings to increase the frame rates.
Response Time
Response time is one of the time-related specifications. It indicates the time it takes to change every pixel from one setting to the next. You can measure it in milliseconds (ms) from one shade of gray to another shade of gray (GtG). If you want to use it to play games, try to use a sub 5 ms. However, if you are willing, you can use 2 ms or even 1 ms.
The factor is vital because a slower response time can lead to motion blur or ghosting during quick motion. You can see it happening while the monitor is not keeping up with the game. We always prefer to have an excellent crisp image at all times. In this case, a high refresh rate combined with a fast response time can make the job done.
Ensure that you need to keep the response time at 5 ms or faster. We advise you to go with 1 ms as a now-common option. The quick response times help to reduce motion blur and ghosting.
Adaptive Sync (Variable Refresh Rate):
Have you seen any frame-rate benchmarks for games and gaming computers? If yes, you can experience any frame rates fluctuating depending on the action on the screen.
These can shoot up with minimum action. However, you can see these dropping dramatically when these are in high action. As a result, you can experience screen tearing.
Screen tearing happens while the PC shows a part of one frame and the following frame together. You can see the image for sure where the sync is broken.
It happens as displays allow you to run always at a refresh rate. In this case, you can take the help of VSync. It is simple to use as it tells the monitor to wait for the entire next frame before switching. However, you should not go with it as this one is not the best option to fix the problem. Moreover, it introduces lag, which is not suitable for gaming.
Both AMD and NVIDIA come with adaptive sync or variable refresh rate solutions, and this helps maintain smooth playback while the graphics cards are putting out non-standard frame rates. In addition, you will get FreeSync from AMD, whereas NVIDIA offers G-Sync. Each of these can help you reduce tearing, but you need compatible hardware to do so.
Use AMD's FreeSync because it is available more widely and less expensive to implement. In addition, it indicates that you can find it on more monitors. When it comes to NVIDIA's G-Sync, it needs certification and undergoes quality control to guarantee performance. Therefore, you need to select based on your graphics cards. Whether your device has an AMD card, get a FreeSync monitor. Besides, whether you have NVIDIA, get G-Sync.
G-Sync:
It may seem to you that G-Sync provides better benefits technically, and that is because it can give extra certifications and guarantees of performance than the open FreeSync. However, you have to invest more money in G-Sync displays when it comes to money.
Using adaptive sync tech, the NVIDIA G-Sync and AMD FreeSync help resolve the issue of screen tearing. It occurs when the video feed to the device can't be synchronized with the monitor's refresh rate. The phenomenon causes a horizontal line as the top section is unavailable for not syncing with the bottom while watching video playback or gameplay in a video game.
G-Sync monitors need NVIDIA GPUs, and these are more costly but more reliable. On the other hand, the FreeSync monitors also need AMD GPUs and are budget-friendly.
But these significant differences from one display to another. If you're willing, you can go with Adaptive sync or variable refresh rate because these are perfect for gaming.
HDR Display:
Multiple people think that the more resolution they have, the better quality they will get. However, HDR is something that you have to consider. High Dynamic Range can significantly improve your image quality than more resolution. In HDR, additional pop and more vivid colors are available, which shows a huge jump compared to older display systems. Whether you have not seen an HDR display yet, make sure you have one.
You may not see HDR on computer monitors. If you want to have True HDR, it may need a specific maximum brightness and minimum brightness to ensure the dynamic range. However, multiple budget-friendly displays can not hit the targets.
In addition, one thing you should ensure is that your OS, graphics card, and monitor should be compatible with HDR to get it working. Besides, every game must have its support for the specific format, and you should be aware of that. We recommend you to use it as it can become a more standard feature very soon.
HDR displays can provide more excellent contrast with brighter highlights and deeper shadows. Besides, it helps to maintain detail in each also. Moreover, these are compatible with more vivid colors.
The high dynamic range needs a compatible imaging pipeline like the operating system, graphics card, display, and game. It comes with multiple standards, due to which you can ensure that your device has compatible options like HDR10. In this case, you can go with a monitor rated with the DisplayHDR standard. We advise you to consider the HDR factor always as it is becoming very famous in recent times.
Color Gamut:
Ensure that you should have something nearer to 100% sRGB coverage. This solid baseline can offer good color, and nobody will complain about it.
Whether you are willing to use it for video editing or watching movies in HDR, make sure that you have a good model. Try to have a model with a minimum of ~100% sRGB coverage.
Build Quality:
When it comes to building quality, you must want to have the highest build quality possible as a user. Therefore, the factor is vital to consider because while buying the best model, you should check if you are getting the excellent value for money.
Choosing a model depends on the brand, model, and specifications you want. Hence, you have to invest a lot of money and spend even more repairing or replacing. Every time you talk about your device's build quality, you have to consider the materials used in its construction. You can use Flimsy plastic, but it can lead to snapped ports. These don't allow you to set up a secure connection and cost you money to replace.
You need to make sure the overall build of your device consists of something incredibly strong like ABS plastic. It makes you sure that your gaming monitor can keep offering you the best performance possible for years to come.
Gaming Monitor Stand:
One of the essential factors that you have to consider is the positioning of your gaming monitor, as you know that the materials used in the frame should be powerful enough to hold the display firmly in place. The stand helps to keep the whole display and frame elevated, and besides, it helps to prevent it from tipping over. In addition, you can angle, tilt, swivel, and adjust the height to get a more comfortable position.
We must not want the device to become loose from the stand. Hence, you should ensure that the construction is highly durable. Besides, you need to ensure that the stand allows you to cope with all the adjustments throughout your lifetime. However, you should use long-lasting fixtures and fittings also.
Try to use Stainless steel or aluminum as these are the best options. However, if you are looking for something powerful, you should use them. These are resistant to corrosion and rust also, and it makes you sure that you can depend on them regardless of the surrounding environment.
You should always consider the best quality when it comes to standing. Buy a model that is sturdy enough. It is one of the vital points to consider. You must not want your screen shaking while playing your favorite games. Therefore, make sure that you are not underestimating the need for a robust stand.
Panel Coating:
Many options are available for the panel coating applied to your device. You will find them generally 'glossy' or 'matte,' and every model has its pros and cons in terms of performance, build quality, etc.
If you are willing, you can try Glossy panel coatings made from polymers or glass. These can offer you a vibrant reproduction of color. But you need to know that these are more susceptible to damage than when something is thrown against them, or you drop them by chance.
In most cases, the matter panel coatings consisted of softer plastic. These may not provide you the same color vibrancy as glossy panel coatings, but these are very much long-lasting. Besides, these can provide much better light mitigation, perfect for decreasing reflections.
Number of Ports:
Ports are one of the vital essential aspects you have to consider, though many people overlook the matter. Before buying the best model from the market, you always have to check the available ports.
It is the ports that help you connect the device to the computer. But if you choose the wrong ports, it will cost you both effort and time. In addition, you may want to have a replacement.
We have given details of the most common ports available on a gaming monitor.
HDMI:
High-definition multimedia interference is the most common and essential port you are willing to use. Most people use these on televisions. But, if you're eager, you can use them to send high-definition video and audio between two devices with one neat cable. Multiple variations of HDMI are available, and every model offers something different. If you have any modern gaming PC, you can find one or a combination of these:
HDMI 1.4: It is compatible with up to 4K at 24Hz, 4K at 30Hz, or 1080p at 120Hz.
HDMI 2.0: This HDMI is compatible with up to 4K at 60Hz. It allows you to use later variations (HDMI 2.0a & 2.0b) for HDR.
HDMI 2.1: It is compatible with up to 10K at 120HZ, improved HDR with dynamic metadata, enhanced eARC (Enhanced audio return channel), etc. Besides, it can offer a variable refresh rate.
Different HDMI ports have different specifications. But the essential thing you need to know is that you will get better performance if you have higher-numbered HDMI ports.
DVI:
Digital Visual Interface or DVI is a video display interface found on gaming PC monitors. It is perfect for generating a robust and secure connection to the computer because you can screw it in place, and the interface prevents it from being tugged out accidentally. It is the last thing you need while halfway through a game.
These ports can help you offer better quality images than VGA ports. But these are not so sharp as modern HDMI ports. Besides, these can transmit audio signals that distract you when you wear headphones while playing.
VGA:
Video Graphics Array or a VGA port is a standard type of connection that you can see on a few devices. However, people still use these now, and modern interfaces ( such as HDMI and DVI) will soon replace them.
Keeping the factor in mind, you have to consider if you can continue using your monitor or plan to upgrade your PC in the future. You can get VGA converters available also.
DisplayPort:
If you are searching for a port that can HDMI, you should use DisplayPort. The term is abbreviated as 'DP .'You can use the port as digital audio and visual interface. It can offer the same high-speed bandwidth as HDMI but comes with a much higher refresh rate at peak resolution.
The model is available in two sizes – the stands DisplayPort and a Mini DisplayPort. Besides, the model you will buy should be future-proof. With the help of modern technology, the DisplayPort may become the standard connection type. A few devices are available, providing you with multiple ports. Using the ports, you can connect to your PC in many ways. If you are willing to make a multi-screen setup, it is something you have to watch out for.
Panel Type of the Gaming Monitor:
You can see many people putting great emphasis on the panel type.
IPS (In-Plane Switching) is one of the best panels to provide sound color reproduction with solid contrast and quick response times. However, if you want to have advanced features, you may need to invest a little more money.
TN (Twisted Nematic) panels are available at affordable rates for quicker response times and refreshes rates.
But if you are looking for color rendering and viewing angles, these are not so good on them. You can go with VA (Vertical Alignment) panels as these can provide great contrast. However, these may lose out on gaming-critical performance more than TN and IPS, and we never recommend you to use them.
Aspect Ratios:
When it comes to choosing the best model, resolution always comes first. It is undoubtedly essential for the perfect gaming monitor for your setup. But aspect ratio is one of the things that most people overlook.
We have given different aspect ratios available. You can select any of these according to your needs and use the suitable one for individual gaming setups.
What to Look for in a Gaming Monitor- Widescreen (16:9) Or Ultrawide (21:9)?
When your device has a higher resolution, it will have more pixels on display. While you have more pixels, you can get better clarity and picture quality. The feature may not offer you a competitive edge, but it can easily make your games look great and add to the overall immersion.
The monitor size can affect the resolution also. In most cases, you will find gamers playing on a 1080p resolution, and it will look great on 24″ monitors. But if you are willing to push up your resolution to 1440p or even 4k, ensure that you should have a larger screen size.
If you want to use this device but are getting confused about what to choose, we advise you to go with a single 16:9 monitor for gaming. You may use Ultrawide and multi-monitor setups. But these cannot support gaming too much, mainly in multiplayer titles.
Before purchasing a big screen, ensure that you should have the video hardware to support the sizes. The reason is that the increased number of pixels will generate an enormous workload for your GPU. So whether you want to buy the model for high FPS, you must have a top-end system to support the increased resolution.
How much should you invest money on a Gaming Monitor?
Whether you are a beginner in this field, you must want to have the best features which help to improve your gaming experience. In addition, the features help to reduce the numbers also in your bank account. Of course, you can get all the features if you want to have them, but you have to pay for them.
In recent times, if you want to use the latest high-end gaming monitor deals, you need to pay over $2,000. It relies on what you require and what your budget is. Whether you put more focus on FPS instead of a gorgeous display, then you must not want only to make your games beautiful. Your priorities are different, for sure.
It relies on the budget for the rest of your system.
Whether you have a budget build, you should not invest more than $200 or less than $100. You can go with under $150 and under $100 models.
If you are using or willing to use a mid-range build, ensure that you should not invest money less than $200 or more than $400.
Besides, if you want to use a high-end build model, spend as much money as possible. However, you should begin at around $300-400.
The bottom line:
The article lets you know what to look for in a gaming monitor. You must consider all the vital factors before buying the best model available. Always select the best monitor if you want to use it for competitive gaming or simply push your games.
These are all the aspects you have to consider while purchasing a suitable model for yourself. Then, if you're willing, you can browse and head towards Amazon to do the needful.