Blog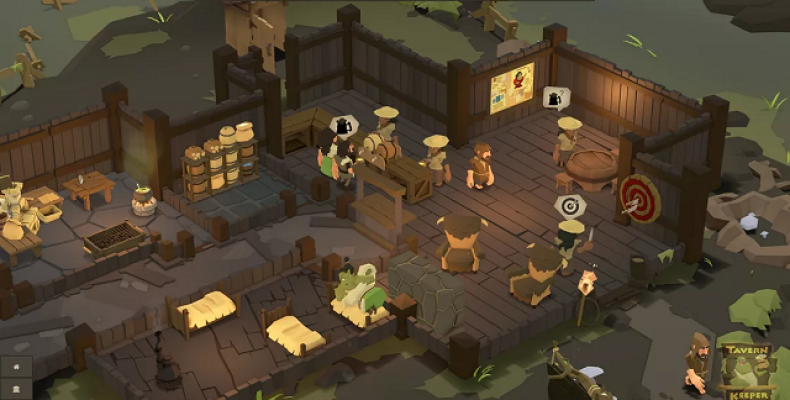 Best Idle Games Android- Incremental Mobile Games for You
An idle game, also known as an incremental game, is a category of games defined by its strategy's primary aspect: keeping the game running on its own with limited to zero contact between players. Game engagement, though always useful for development, is optional for longer Game-play times. Best Idle Games Android entertains, by combining scholarly perspectives on the definition of a video game with the findings of a poll.
Recently, there is an intense mode of self-playing in games called 'idle games' with absolutely no external involvement in the whole Game-play. In recent studies on idle games, while the presence of interactions in the game is still meaningful to describe a game that plays even in such tap games, what constitutes an interesting observation of real engagement might be a matter of different opinions.
Idle tap games are a kind of strange gaming genre. The dynamics are quite basic. You tap on the phone to create an item, or you wait for the thing to be generated on its own. You update different items to make each click worth more or produce more stuff for the same period. That sounds more complex than it is. You press, sit, update, and repeat.
List of Best Idle Games Android
Clickpocalypse
AdVenture Capitalist
Video Game Tycoon
Bitcoin Billionaire
Egg Inc
Cookie Clicker
Idle Mafia
Fallout Shelter
Realm Grinder
Musketeers: Idle Has Fallen
Penguin Isle
Hotel Empire Tycoon
Space Plan
Tower of Hero
Dungeon Inc
Game of Thrones Tale of Crows
Idle Fish Aquarium
Bee Factory
My Oasis
Adorable Home
All About Best Idle Games Android
If you are looking for the popular idle games for Android, don't worry, you have landed at the right place. This article will tell you about the top 20 best idle games Android.
Clickpocalypse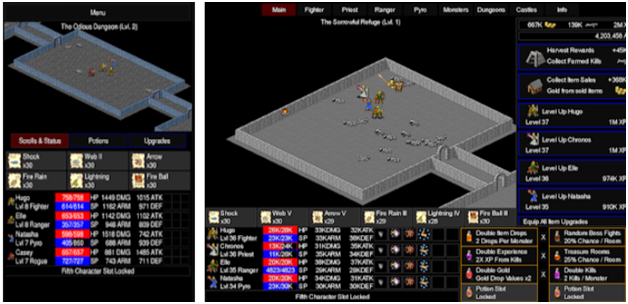 Clickpocalypse is one of the most famous idle games. The Clickpocalypse II has less refined visuals, but it's still a good idle game to consider due to the amazing Game-play. Players are building a team of heroes to explore all the different dungeons and destroy many bad guys. You can also find objects, improve your skills, and create a range of achievements. Of course, the characters will still learn a lot of skills. You raid the dungeons, and each one has a chance of loot. The graphics may not be that great, but the game-play is a little more complex than other clicker games.
AdVenture Capitalist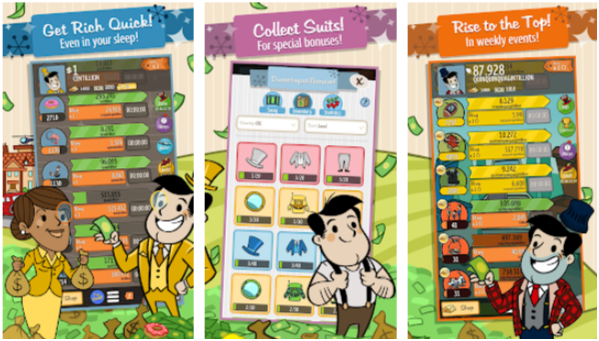 AdVenture Capitalist is not only the most popular but also one of the best idle games Android. It plays like a relatively traditional idle tap game. You press the screen to make money and then update your company to make more money passively. It's a big game of a lot of things to update. The game is sized up satisfactorily. You also recruit staff, draw customers, and make your company generate as much profit as possible. It may not be exactly like other idle tap games, but otherwise, it's a good experience.
Video Game Tycoon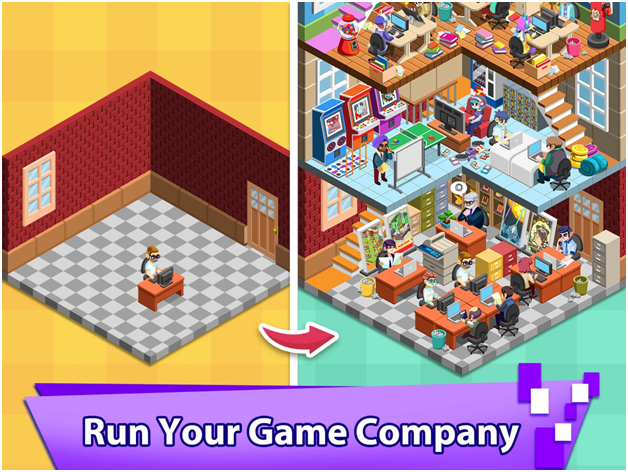 Who hasn't spoken of becoming a game maker at some point in time? Video Game Tycoon is one of the best games for Android that lets you do exactly that. The game begins with a small, empty room building app from scratch. You're going to do a lot of tapping first to build up some currency, but then you can start making your games. You name them, select the genre and configuration, and you can even make custom icons to bring a little personal touch to your games.
Those Tap games passively make money, and you can keep upgrading them to make even more money. You spend the money on recruiting better staff, designing better games, and purchasing custom decorations and items for your gaming studio. There's a nifty prestige mode, too, where you can reset the game after making $1 trillion that resets your progress but gives you a "golden joystick" that helps you make money faster.
Bitcoin Billionaire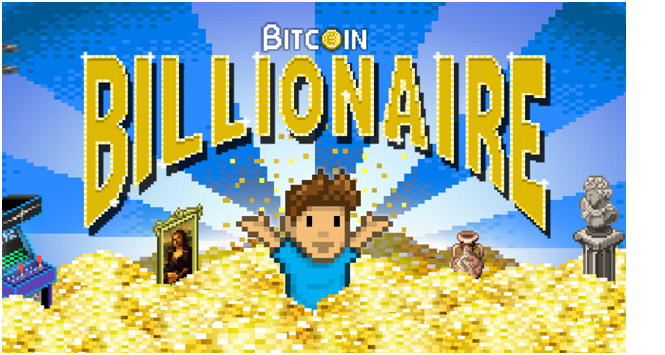 Bitcoin Billionaire saw a lot of success as bitcoin was a major news story. This is what made this game is the best idle game for Android. Luckily, it's always a nice idle tapper. It functions like any of the other titles. You start tiny with a bunch of clicks and eventually switch to the idle part with different upgrades. You spend money on investment (upgrades) to aim to make the amount as high as you can. The game also includes achievements, different prizes, and even pets (or robots) that may be accepted. Noodlecake Studios did well on this one, but there's nothing else to worry about this one.
Egg Inc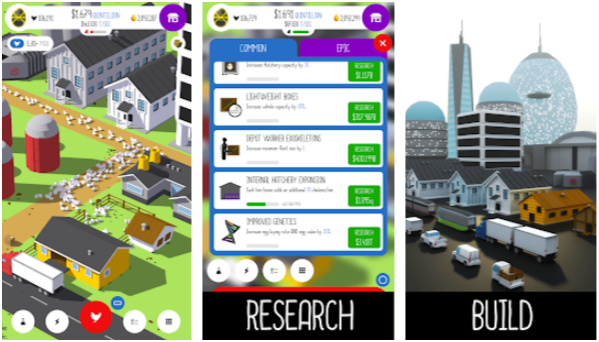 Egg Inc is a usual idle game – you're creating a chicken farm. And that's it, truly. You press to hatch more chicks, to fill the hen houses, and the eggs would grow more useful over time. You may purchase updates to improve the pace at which your chickens lay eggs, how useful they are, and how streamlined the whole operation is, all while shooting down drones for extra cash. It's really weird, but it's enjoyable, and that's what makes it one of the best idle games Android.
The entire game is set up with a real GUI in mind because there is a tons of pictures and UI components to deal with, compared to plain text that only transforms into larger numbers. It's a little bit of info, but it makes Egg Inc. one of the most entertaining games on the list.
Cookie Clicker
Cookie Clicker is the trailblazer of the idle game genre. It is deemed the most significant gradual game in terms of the further growth of the genre. The player earns a cookie any time they press on it. By clicking on a massive cookie, you can buy buildings and other items. After a bit, updates and the like can be used to get more cookies per click and also gather cookies on its own.
It was produced and published in 2013 by Julien Orteil Thiennot. While not quite the first clicker game, this was the most successful release of the period. And Cookie Clicker became one of the best idle games Android. The game has an addictive game-play that is basic and complicated. It was appealing to many players since they hadn't played a game like this before.
Idle Mafia
Idle Mafia is a newer idle game with some solid mechanics. These mechanics are what make it one of the best idle games for Android. You're starting your criminal syndicate, and the game contains several routes to the peak of the crime universe. You may do stuff like feed security or fight in the streets. Different companies produce passive profits because you're still growing better.
We like this one because the developers have introduced more patches, and we think they'll keep the trend running to keep the game new for the fans. Few users have some issues here and there, but mostly it's pretty sweet.
Fallout Shelter
Fallout Shelter is also one of the best idle games Android. Despite the way, Bethesda added new elements, such as wasteland adventures and discovery, in its heart; Fallout Shelter is an idle game. You create your vault, but after that, you put your feet up and serve as a boss, waiting for the pioneers to come back and the capital to be created. It's a series of sorts, Fallout Shelter Online, also features PvP auto-battle
Realm Grinder
Realm Grinder is an idle game that starts with a small farm; you develop your holdings into an existing domain, explore the surrounding countryside, and cultivate alliances. It sounds like a lot of effort, though. Luckily, all you've got to do is tap. And that's why this game is also one of the best idle games for Android. What Realm Grinder does with tapping is impressive. The game has a lot of depth, allowing you to select a faction, unlock technology, create, engage in diplomacy– just about everything you'd expect from an RTS city builder, except that it's an idle game.
Musketeers: Idle Has Fallen
Musketeers: Idle Has Fallen is an idle game with some RPG and mild gach mechanics. The main game loop is determined to be idle. You have a squad of heroes who are actively battling bad guys to raise resources. You can update your heroes, adjust their equipment, and chain orbs to make them do even more harm.
Later on, the updated road gets a little tougher without real resources, but it can be achieved with a little persistence. This is a good one for people who want to get away from the tycoon-style idle game in favor of something slightly different. If you are a fan of heroic games, you must definitely try out this best idle game Android.
Penguin Isle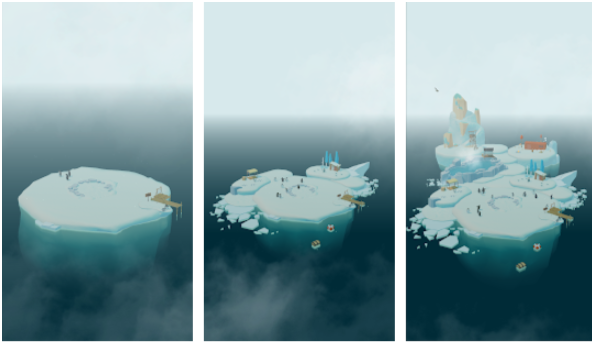 Penguin Isle is among one of the most famous and enjoyable idle games on the list. You start by constructing your penguin habitat and catching more penguins and other animals while you play. Mechanics are super basic, but you're not going to find anything too difficult here. The big draw is the relaxing music, the happy play, and the adorable animals. Even advertisements aren't bad, and ads are usually bad for games of this kind. The game blows your mind, and maybe it's a little boring for veterans of the genre, but it's certainly a good one for newcomers.
Hotel Empire Tycoon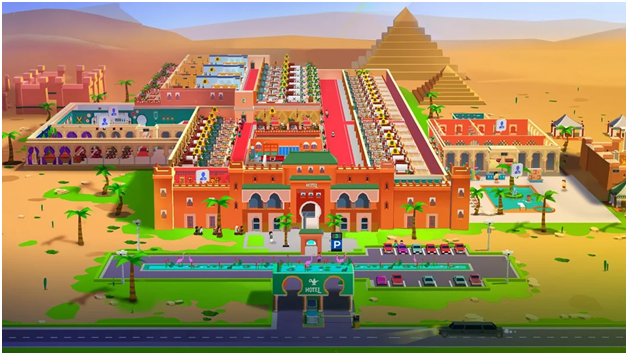 For a domestic take on the idle clicker game, check out the Hotel Empire Tycoon. Hotel Empire Tycoon is a best idle game Android. This game takes the genre and sticks it in a high-rise hotel, leaving you in control of handling visitors, workers, and other accommodations while attempting to pick up as much cash as possible.
Start with a single small hotel while making larger rooms, upgrading facilities and decor, and extending the hotel empire to other resorts and destinations. You're going to have to handle staff, meals, and other facets of the hotel to maximize the passive income, which is the name of the game here. If you want to fly, you'll get the chance to sell scuba lessons, spa treatments, and sightseeing tours around your hotel for visitors, and it's a fun game, too.
Space Plan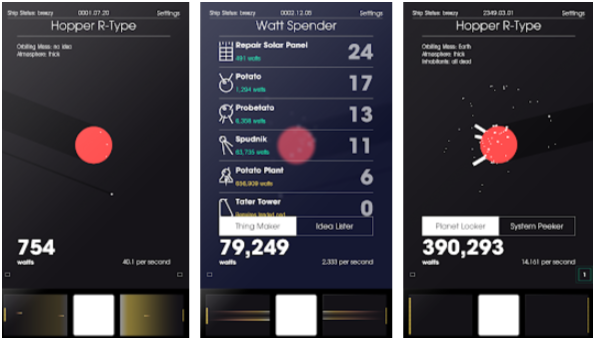 Space Plan is a special game of this nature. First of all, it's a paid title with no in-app purchases or advertisements. You get all the content in one buy and after that you don't have to pay a single penny to get to the last level of the game. The game uses tap and idle mechanics to launch machines to explore the surrounding earth or space in general.
The game is very simple, and it's easy to beat in less than a week if you know what you're doing. Please don't plan to get a lot of scope in it. The one other thing is that the creator hasn't changed it since 2017, so if you encounter a flaw, there's a fair risk that it won't be fixed. But we still consider it as the best idle game for Android due to its amazing game-play.
Tower Of Hero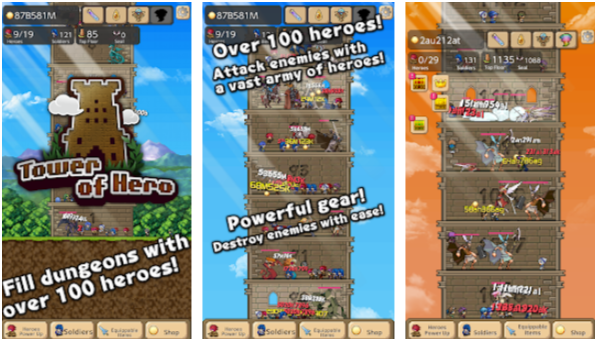 Wildcard entries are always unexpected, so here's one in our list: Tower of Hero. Players are taping to kill monsters. You fill the Dungeon with up to 100 heroes. Every new hero and piece of gear can do more harm to the monsters. There's a lot to like in this one. The advertisements aren't that bad.
We've counted one banner ad, and the players activate the video advertisements. Scaling is still pretty good, as is the loot and reward scheme. There's a social ranking aspect, and since it's a freemium game, the top-ranking players typically aren't free-to-play players. Otherwise, this one is a funny little tapper and also a wildcard among the best idle games Android.
15. Dungeon Inc.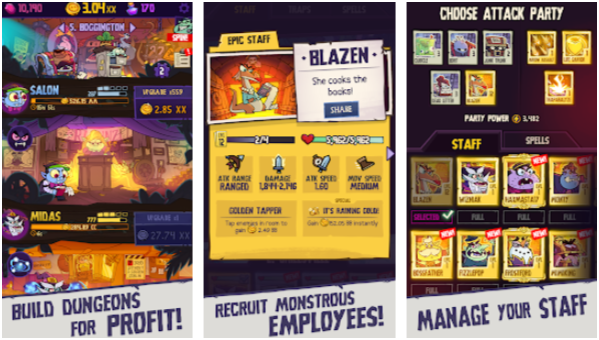 Managing a dungeon is a big industry, and we've known it since Dungeon Keeper first appeared in the gaming world. In Dungeon Inc, you have just been promoted to the Dungeon's new Gold Development Boss – congratulations! Your task is to build your Dungeon, attract monsters, and make more gold. But others greedily covet what you make, and so you still have to protect the Dungeon against the appropriately called Tax Knights, who are trying to rob your hard-earned cash.
Game of Thrones: Tale of Crows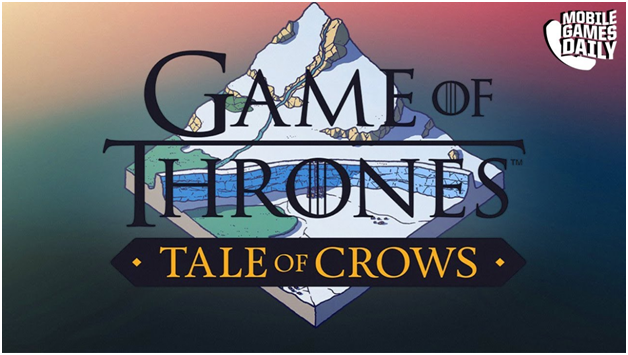 Game of Thrones is no doubt an enjoyable series, but how did it end up in our list of the best idle games Android? Well, if you have ever thought of becoming Lord Commander of the Night's Watch, this game allows you to do so. As the de facto chief of the Crows, you send teams north of the wall, but the great thing is that you get updates every day as these expeditions send ravens back to you. They still carry on traveling in real-time, even though the game doesn't work, so you can enjoy the warmth of Castle Black as they freeze themselves.
Idle Fish Aquarium
Idle Fish Aquarium helps you create your aquarium and fill it with colorful fish species that will improve your business! In this game, you're going to need to effectively handle your aquarium to get better equipment and improve your aquarium. Besides your aquarium, you will still need to make sure that your factory is fully upgraded to help speed up the process of earning prizes.
Bee Factory
Bee Factory sends players to a beehive-like factory to serve as bosses to be the richest man alive. In this game, you're going to collect various bees and machines that you're going to have to update constantly to produce more honey. Like most idle tap games, Bee Factory will get tougher when you level up, so it's important to be careful with the game if you're going to play it actively. Otherwise, you will always enjoy steady success and have fun with your increasing set of bees. Overall, Bee Factory is still one of the best idle games Android.
My Oasis
If you're looking for an idle game that gives you a little stress relief, My Oasis is a game you can try out. The game is intended for players who need to take a short break from life, as it offers a calming, easy-to-play atmosphere. Supported by soothing music that ensures you get into your zen state, you're creating an island of animals you can communicate with. Your island will steadily grow when you communicate with the world continuously. You're going to see various animals and cultivate a number of plants as you go. My Oasis is the best game to play after a hard day at work or if you want to clear your mind.
Adorable Home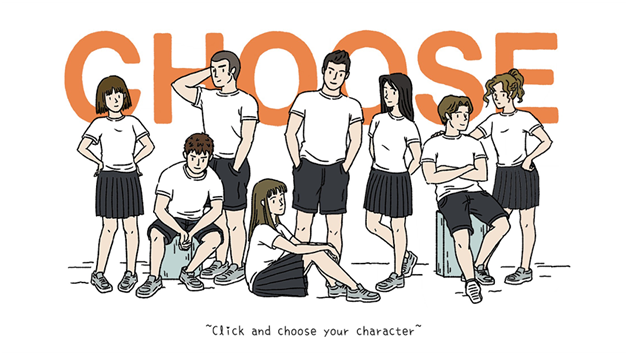 Adorable Home is a popular idle game that has captured the hearts of many players around the internet. The game is a perfect example of an active idle game, where players often have to perform a variety of activities, such as cooking meals and feeding cats, to help them breeze through the game. The game encourages players to be as imaginative and inventive as they can with the way they customize their own cute Home. Given its active features, the game is still very idle. You're going to have to check the game every now and then to collect prizes, take pictures, and extend your house.
Conclusion
In this post, we listed the best idle games Android. Clicker games have become very popular in recent years. This is because it allows players a sense of success without really doing anything. And if the game is left on standby, players will still score points and level up, which is really appealing to those looking for low downtime games. Further, the development of games like this is rapid. When you play the game, you can unlock more and more rewards.
In any case, these incremental games are a perfect way to kill the time. They provide players with a fun game atmosphere where they can ease their tension without having to do a thing. They're a perfect way to make progress in a game without having to sweat it. These are popular clicker games to enjoy for those who want to play easy games on their phones without having to waste too much time or putting a lot of effort.