Blog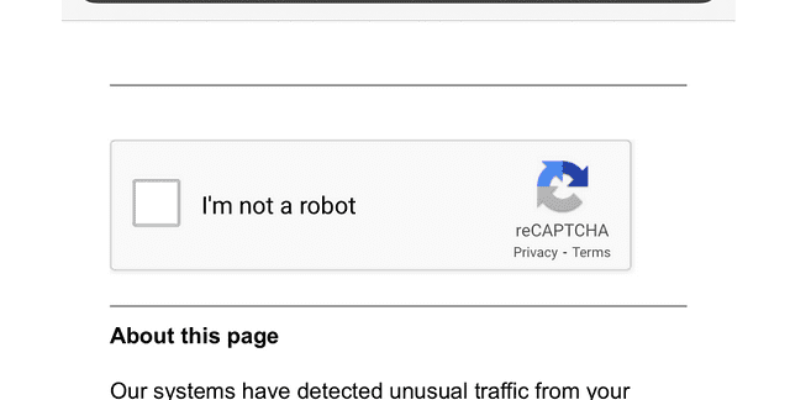 Google's "Unusual Traffic" Error
An error message is the simplest way to inform users that their device or software is facing a problem. You might have experienced several error messages over the years, where a few are complicated, and a few are hard to bypass. There are many techniques that Google uses to prevent non-essential traffic from abusing its search engine. Google's "unusual traffic" error message can appear in front of you when you have performed a lot of searches in a short time space. To know more about this error message, let's dig into the article.
What Is Google's "Unusual Traffic" Error Message?
You can see the error message on any device or browser. Once you type any query into Google's search box, the message will occur. Tap on the search option. Using the address bar to look for what you are finding is possible. Suppose Google is set as the default search engine; then it will state:
"Our systems have detected unusual traffic from your computer network. This page checks to see if it's really you sending the requests and not a robot."
As soon as you get the error message, you will see your internet protocol address. If you want to continue browsing, your task is to solve the CAPTCHA (Completely Automated Public Turing test to tell Computers and Humans Apart) and verify that this one isn't a robot.
Why are you getting the message 'Unusual Traffic' Error on Google?
 You can encounter the error because of five reasons.
Google Too Quickly:
You may encounter an error message if you put different search items rapidly. Doing this repeatedly for a prolonged period leads to misinterpreted your activity by Google.
Use Automated Software:
When you use any automated software, you can encounter an error message. For instance, the keyword research tools that can scrape queries you enter into Google's search box or similar software on which SEO professionals depend on for doing their jobs.
Share Your Network With Other People:
You can encounter the " unusual traffic " error message when you use public WiFi. The reason is that several other people connect to the same network. The software can flag the requests as automated. It may happen when several people use their home network at a time.
 Use a VPN:
If you browse the web through Virtual Private Network (VPN) software or use any proxy browser plugin, Google can show you the "unusual traffic" error message that leads you to solve a CAPTCHA.
You're Under Attack:
If you find an unusual problem with your internet connection, remember there can be a threat actor or malware (malicious software).
How to Fix "Unusual Traffic from Your Computer Network":
These are simple methods to fix the 'Unusual Traffic' Error on Google searches.
Perform the CAPTCHA test:
Is Google blocking the search traffic without any reason? Don't worry because it is possible to bypass it. Hence, you need to perform the CAPTCHA test. Do you know what CAPTCHA is? This one is a system that can limit non-human web traffic like automated scraping bots and includes a test which can be solved by only humans using usual web browsers.
Although the CAPTCHA system is not foolproof as it assumes, Google uses it continuously to limit unusual web traffic. If the searches are limited, you need to choose the I'm not a robot checkbox in the CAPTCHA box, and then you should start the test.
In this test, you need to identify images depending on some cases by choosing them. For example, you may need to choose all pictures with a visible tree. Another option exists for visually impaired people to hear the captcha read to them.
When you select the correct images, choosing the Verify button lets you perform the search. But you should repeat the method if you fail the test or are suspected by Google as if you use automated traffic.
Are you facing these troubles continuously? If it is the case, you should sign in with your Google account. Otherwise, you may prefer to switch to Google Chrome or other web browsers. Thus, you can prove to Google's servers that you are a legal search user.
Disconnect from VPN:
 We often use VPN or virtual private networks to hide our true IP address to offer additional privacy online. You can encounter the error message even more when you are linked to a virtual private network.
With the help of a VPN provider, you can route your traffic via many servers at your disposal. Besides, it can route traffic from other VPN subscribers via the same servers. Just like using a public internet connection such as a shared PC or public WiFi, it may cause many Google queries on the same IP address.
It causes Google to block the searches that you have done using the internet protocol address. In addition, Google can identify certain IP ranges that VPNs use.
The most effective way to overcome the problem is to disconnect from your virtual private network connection. If it doesn't work, you should switch to another internet connection, like a mobile data connection, to bypass the problem.
Limit Your Searches:
 If you prefer to search for many things quickly, mainly if you use an automated tool like a scraping bot, it may temporarily result in a limited number of searches.
Perhaps, you need to do this for an hour or two, but it can take 24 hours for any rate to limit the IP address to be lifted. It is also essential to limit the lot of advanced Google search operators that you use in searches. The reason is that search operators refer to the increasing sign of automated searches. Usually, people do not use operators to find anything. Therefore, Google is capable of filtering out these for traffic. If you need to use operators, remember that you have to use these sparingly. It reduces the chance of being rate limited.
Scan for Malware:
 Sometimes, you may not be sure about the reason that is causing this error. It could point to a malware infection on the local network or computer. The malware might use the internet for making plenty of search queries to scrape data or perform a distributed DDoS attack on Google.
If you use any third-party antivirus or anti-malware software, remember that it is unnecessary. Windows 10 has a default security solution named Microsoft Defender which you can use to check for malware infections.
If you want to open Microsoft Defender, you should tap on the Start menu. Then, you have to choose the Settings option.
When you go to the Windows Settings menu, choose the Update & Security option. Then go to Windows Security and Open Windows Security, respectively.
You can find the windows by opening the Security menu in a new window. Hence, you should choose Virus & threat protection from the Security menu. After that, you have to choose Check for updates ensuring that your antivirus database is updated.
As soon as you update your antivirus database, you can choose the Scan options available in the list underneath the Current threats category.
Your job is to choose the Microsoft Defender Offline Scan option. After that, you need to choose the Scan Now button.
Now, you can find your Windows restarting the computer or laptop to perform the system drive's boot-level scan so that you can check for any malware infection.
You need to follow the extra on-screen instructions for removing malware it can detect.
It may be necessary to perform all steps again on other devices which are linked to your local network. Then, you can share the same public IP address.
Check the Browser Extensions:
 Ensure that you check the extensions that you have installed in your browser. Whether you are willing to look for a suspicious extension or you have installed extensions to scrape searches, remember that you should disable this temporarily to see if it can resolve the problem. After removing the extension, you can reset the browser to default settings if you still encounter the issue.
As a Chrome user, you should head toward Settings. Then, go to Advanced, Reset, and Clean up, respectively. Click on the "Reset Settings to their original default" option. Thus, you can reset all settings and change them to the default.
Restart Your Device & Router:
You can try to restart the mobile or PC. Ensure that you reboot the WiFi router once if you use WiFi for connection. It helps to fix temporary bugs or glitches.
Other solutions to fix the error message:
These are the extra solutions you can use to solve the problem:
Reset your browser to default settings
Disable proxy server
Check if your IP address is blacklisted on third-party sites
Contact your ISP
Use other search engines like Bing, Yandex, DuckDuckGo, etc.
Conclusion:
 In this article, we have covered all common methods to resolve Google's unusual traffic errors. Hence, you can disable the VPN connection to fix the issue. However, the solution relies on the reason that is causing the problem on your device. Try all the methods one by one. Hope, following these above-mentioned methods, you will be able to fix the issue.
Frequently Asked Questions:
  Why do you keep getting unusual traffic from Google?
 If you get this error message, then it can be a sign that Google has suspected your web traffic is problematic. Unusual traffic indicates automated traffic or malicious traffic caused by hackers, bots, malware, or unnecessary search requests.
Why does Google detect unusual traffic when you use VPN?
 The "unusual traffic" detection depends on traffic that is originating from a single IP address. If the VPN subscription doesn't have a dedicated IP address, you can share the IP address with several users.
How do you fix unusual traffic on Google iPhone?
 You should restart the iPhone. Then, you must clear history and cookies from the Safari browser on the iPhone, iPad, or iPod touch.