Blog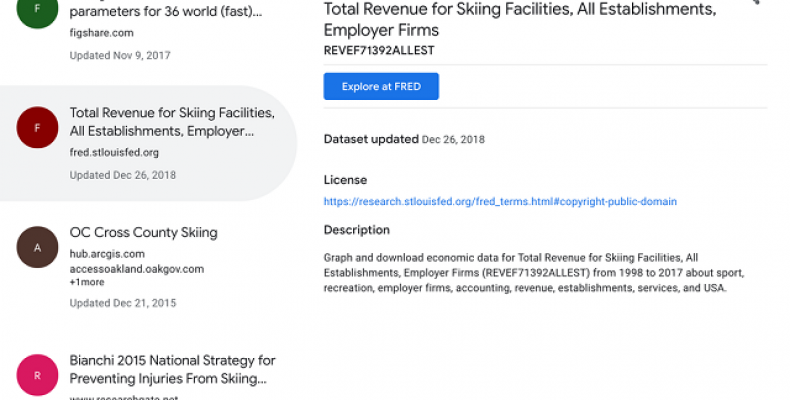 Google Dataset Search Tool: Discover Datasets on the web
Google has recently brought out its dataset search tool out of beta. Now anyone can search through the millions of datasets on public websites. If you're interested there are millions of datasets pertaining to different topics across the World Wide Web. Any topic you pick there is a dataset on it and not just one but millions and millions. That's the main problem though- the sheer quantity of it. Just the amount of datasets on a single topic can deter anyone interested in researching them. But the struggle is over. Google's datasets has indexed around 25 million datasets. Now users look through them and find links to the data that contained in them.
Out of Beta…
Google's dataset search tool has been in beta for the past year or so and based on feedback it is now open to the public.
Besides this there are also a lot of new features to try out now. There is an option where you can filter your results based on the datasets you require. For example if you're looking for tables, text or images or maybe even free data that you can use. You can also get datasets pertaining to a particular place. If a dataset is from a particular location, a map will also appear.
Google's Dataset search tool is even available for you to try out on your mobile too. Plus the tech giant has also seen to improvements regarding the quality of descriptions on such datasets as well.
Things that have not changed on Dataset Search:
Users who publish data, can make their data available on Google dataset search tool in much the same way as they used to do before. Using the open schema.org standard, you can describe properties of your data on the dataset search tool.
Datasets are amazing if you're an educationist, scientist, data analyst or anyone needing data basically. There are all sorts of data to sift through, data about education, sports, crimes and you name it, it'll be there.
Governments and Dataset Search:
Most of Governments these days publish data and use schema.org to describe it. The United States is the world's leading government in datasets available. It currently has over 2 million datasets.
Datasets was launched back in 2018 and became part of Google goal to putting an end to fragmentation of open access data. Many universities, labs and schools publish data online, but they are very difficult to find using traditional methods. With datasets, these entities can place metadata tags on them. Their indexed in Google's dataset search tool.
Google has not given numbers as to how many users have actually tried out the new search tool, but has said that hundreds and thousands have tried it out and found out it incredibly useful. The most positive feedback it has received has been from the scientific community.
At present nearly 25 million datasets are covered by Google's dataset search tool. This number however represents only a fraction of datasets online.