Blog
Home Weather Stations Prime Guide 2022
The Home weather station is a must device everyone should have at their home. As the home weather stations are a desire for most of the people nowadays, these are not new for the market.
There has been a considerable change in the overall quality and affordability. As compared to earlier days, even average consumers can afford to have the best weather station for home.
The best home weather stations with multiple styles come with their advantages and drawbacks. Although considerations like size and cost are essential to order, search for a package that can fulfill your needs. Besides, if you spend a lot of time outside, a model that can forecast weather conditions accurately would be much better.
What is Home Weather Station?
A Home weather Station is an equipment generally on Land or Sea, with a measuring device and tool to calculate environmental conditions to impart details on weather and to review the weather and climate. You might be planning for an outing based on the clear sky, but you never knew it might rain 2-3 hours later. If you think weather apps on your device are sufficient to upgrade you.
Seriously? Think again.
Yes, don't ever believe they are accurate every time. A weather station for home on the other is available at distant from your location. Luckily, getting precise home weather stations is not a difficult task nowadays.
5 Best Home Weather Stations You Should Try
Ambient WS-2902A weather station
Ambient Weather Station WS-2902A OSPREY Wi-Fi Personal comprises of an interior panel.
Tv console (receiver + Wi-Fi transmitter) and an all in one outdoor weather sensor system. WS-2902A attaches WiFI widescreen Internet controller to WS-2902. This lets clients connect their console to their dual-band network, given the 5.0 GHz channel disconnection. This wireless weather station is worth buying if you wish to save a little money. The WS-2902A smart home weather station sends data to the Internet using your Wi-Fi connection. The WS-2902A sends data to three free hosting services including
Ambient Weather
Weather Underground
Weather Cloud
Pros:
Worth Money
Button Operation
Vertical Desk Stand
Wireless Signal Quality Indicator
Cons:
Tricky configuration
Build Quality is average
Obsolete Display technology
AcuRite 01512 Pro Weather Station 
AcuRite 01512 Wireless Weather Station is a specialized weather station that offers precise weather analysis with its proprietary self-calibration technology. This wireless weather station displays a color screen display with a range of establishing patterns that turn the weather station more appealing and fascinating. AcuRite 01512 Pro is one of the most accurate and conveniently accessible weather stations for home. AcuRite 01512 is a perfect weather station if you are planning for an outing. The 5-in-one wireless technology of the sensor package enables this weather station convenient to mount.
Pros:
Colored screen console
Provides up to date forecast
Wireless sensor signal indicator
5 in 1 outdoor wireless sensor
Cons:
No Direct connectivity to PC
Might lose signal, due to wireless technology.
Kestrel 5500 Weather Station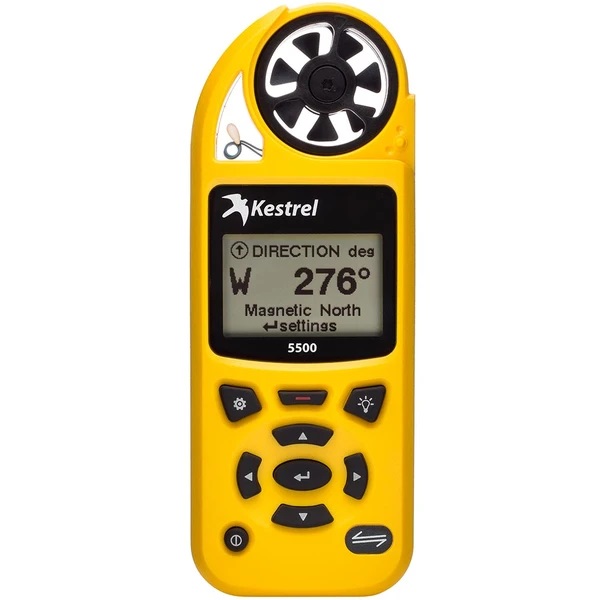 The Kestrel 5500 Weather Station uses five sensors to monitor temperature, humidity, air direction, wave level, and pressure. It displays these in actual time, shows diagrams about how they have improved, and preserves information from them that can be transferred later via Bluetooth to a Laptop, cell phone, or another computer. The Kestrel offers a large variety of choices, that can be a little overwhelming before you get used to all. The guidance suggests that it will be regarded as a stand-alone weather station, left to monitor for a few hours or days, and that the data will be uploaded more than hand-held with the information reading manually. In the end, references apply to points in the document where the Kestrel function may be expanded or changed.
This wireless Home weather station can monitor current atmospheric conditions and records and tracks more than 10,000 sets of time-stamped information.
Pros:
Optional Link connectivity
High-resolution screen
Portable
User-replaceable impeller
5-Year Warranty
Lowest price
Cons:
Pretty popular with boaters
La Crosse Technology C85845 Wireless Color Weather Station
The variety of La Crosse goods available today is comparable to nothing in budget and has enabled climate station technology accessible to the common public, as rarely before. Rest confident that the La Crosse Development family of products has a company that will help you schedule your day proudly. La Crosse Technology C85845 Wireless Weather Station sensors use La Crosse Technology to Gather local weather data.
This home weather station works well, easy to adjust, and is budget-friendly.The displays on this smart home weather station are colorful and show up well on the monitor. This wireless weather station Records MIN/MAX values and warns you to high temperatures. It displays the thermal index and dew point as well. Indicates the poor or low battery and signal transmission efficiency. This smart home weather station has a time alarm with snooze features and has backlight control.
Pros:
Accurate Temperature
Affordable
Easy Installation
Colourful display
Cons:
Davis Instruments Vantage Vue 6250 Wireless Weather Station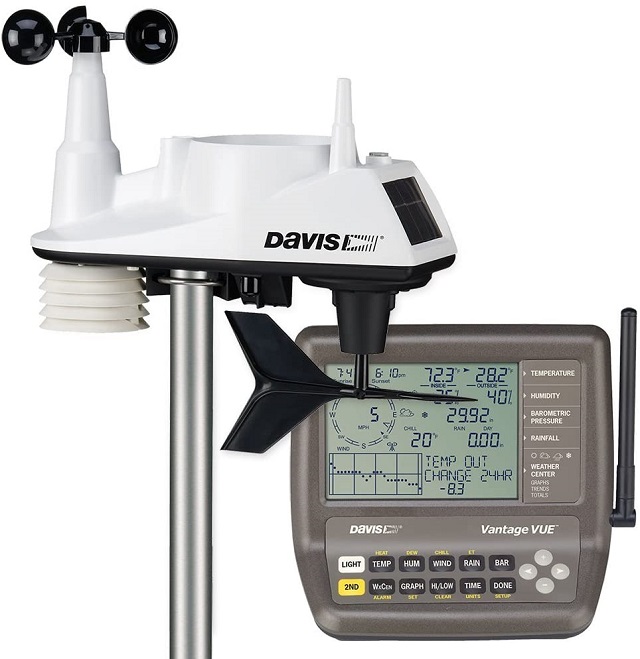 One of your choices should be 6250 Vantage Vue if you're interested in a specific weather station. Nevertheless, an incredible set of information, including temperature, humidity, pressure, moisture, and wind, can still be measured. This offers many other exciting features, making it suitable for all potential users.
Anything from setup to communication is intuitive. The kit should be accessible to those without any expertise in measuring the environment. The built-in sensor suite is the Vantage Vue powerhouse. Once you see the number of functionalities fitting into such a small case, you can clearly understand why.
The suite is helping to avoid exceptionally bad weather. It helps at the same time to be seamless and not to be seen to prevent its atmosphere from being segregated.
Pros:
Solar-powered.
Wireless data-sharing.
Weather trends.
Cons: 
What is the best home weather station for home use?
A home weather station's primary requirement is to report accurate temperature and moisture, both indoor and outdoor. A home weather station should also indicate a barometric force outside your house.
Home weather station in the low-price range will measure the speed of the wind and direction along with rainfall; on the other hand, costly home weather station will the mentioned services and other experts, for instance, condition of the water, soil wetness, and UV Index. Check these parameters before buying one:
Durability:

If you want to track all sorts of conditions in your weather monitor, you require an exterior sensor to survive even the snowiest storms. Search for one with durable features such as cyclic erosion or moisture control box. Verify the warranty and individual companies will pay you back if the company does not fulfill its commitments.

Transmission distance:

The installation of your weather station may be necessary for its exactness. Above everything, you must place it within a specific range of the display. Generic sensors typically work within 330 feet, although there is a maximum distance of 1000 feet on more advanced versions.

Connectivity:

Your outside sensor attaches in a standard configuration to an inner module that displays measurements. More complete setups can connect to your computer or mobile device to view data from a remote location. Are you not satisfied yet? Some versions also are compatible with Amazon Alexa so that Alexa can answer local weather.

Quality Display:

You will prefer to use an easy-to-read monitor because you have a Wireless Weather Station connected with your phone. Due to a range of readings in most wireless weather stations, you would like to purchase an easy to use item so you can access the details you need most conveniently.

Connectivity:

The advanced and powerful technologies into a wireless weather station rarely fail to satisfy, and you have lots of options when it comes to connectivity. Many simpler designs attach to the standard sensor while others work with your device, like Alexa. This means that wherever you are, you can check all of the latest statistics and details.

CO2 Sensor:

It requires mostly the best wireless weather stations when a certain kind of technology is available. This allows you to see how much pollution is happening inside and outside the air so that you can take measures for betterment.
How does home weather station work?
Operating Principle:

In short, Home Weather Stations gather, extract, and analyze all kinds of atmospheric as well as terrestrial information in its location. It generally contains a series of sensors that monitor weather change and create trends before transmitting the information to a central console, based on how robust the technology is.

Thermometer:

First of all, calculating ambient temperature is the essential function of a home weather station. The station will have embedded sensors that will monitor the atmosphere and send a signal to a monitor, reflected in Celsius / Fahrenheit degrees, depends on the settings.

Barometer:

A barometer for atmospheric pressure measurement is another feature of your home weather station. The lower the atmospheric pressure, the higher the chances of rain and heavy winds. The built-in barometer device operates by obtaining electric signals from a pressure sensor that is further translated into the value of the air pressure.

Hygrometer:

Hygrometers are tools for calculating the humidity levels in the environment, i.e., the amount of water vapor in the air (referred to as relative humidity). This is typically mounted on your computer next to the thermometer. A hygrometer is fully equipped with capacitive sensors and materials that absorb moisture. These capacitors allow the system to detect any moisture changes in the environment. Weather home stations collect such modifications, and your central monitor will hold the data.

Anemometer:

The anemometer, it calculates wind speed and direction, is another essential aspect of your hoe weather station. Although it can look like a straightforward tool, not all devices are compatible with the same anemometer type like Cup Anemometers, Propeller Anemometers, and Sonic Anemometers.

Rain Gauge:

A device, as the title suggests, tracks the rainfall (or precipitation) in a specific location and for a specified period. The tipping bucket is the most common and reliable technology. However, not all devices come with one, and it uses an eight-inch rain-covering bucket, which balances and tips over after the capacity has been exceeded. It is also fitted with a protective mesh to ensure the accuracy of the measurement and prevent any excess dropping into it.
Which weather station is more accurate?
In the wind, rains, or temperature predictions, the weather channel does not necessarily have the most precise measurements. The TV weather forecast allows you to select a spot near you, which may be a couple of miles away. This collects the most precise findings from your yard and where home weather stations are useful. Be careful when determining which weather station is appropriate for your house.
Final Words
The best Wi-Fi weather station is the one that suits the budget and has the complete functionality to use. Additional features like internet access and daily reading are also suitable for keeping up-to-date so that the weather doesn't spoil the day.
Every year the demand for home weather stations keeps on growing. Current versions also offer smart household designs with intelligent home weather stations, modifiable solutions, and user-friendly internet connectivity. It has never been easier to observe the weather at home with a personal weather station.
Everyone has a morning routine of their own. Most of us are driving, some people are getting the children ready for school, and others only want to know if their rush-hour path will be smooth. In all of these preparations, the weather will throw a monkey wrench.
One way of keeping on top of mother nature is to get a personal weather station. Sure, you can open an app, but there are details about it a mile and an hour away from a remote station. You get up-to-date information about what it's going to do outside your door with a home weather station.