Blog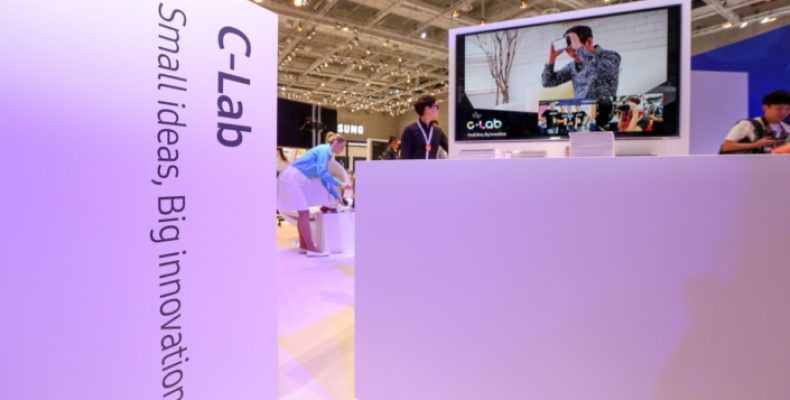 Samsung C-Lab to Reveal New AI Projects at SXSW 2018
Samsung will display its new AI projects coming from the C-Lab
Samsung Bixby has simply failed to capture the attention of the users due to its sluggish performance. However it has not stopped Samsung from continuing the research in the field of the artificial intelligence at its innovative C-Lab or Creative Lab.
Samsung is all set to showcase three major innovative C-Lab projects based on the artificial intelligence at the SXSW 2018 Trade Show. All of these projects have been designed with the artificial intelligence at its core to bring an incredibly satisfying user experience. The three new exciting C-Lab projects include ToonSquare, Aurora and GADGET.
Turning text into cartoons via C-Lab

If you wished that simply writing text can turn them into the toon of your desire and Toonsqare is just designed to do the same. This artificial intelligence application has the ability to automatically convert written text cartoon which will be a boon for the animation industry in the coming days.
In this application users have to first choose a character from its available presets or they can even create a character which can be based on the picture of their own. Being one of the major C-Lab projects this application is quite creative. This app specifically analyzes the text then recommends a number of proper facial expression suites with appropriate gestures of the chosen character.
Own a 3D character assistant
C-Lab projects bring a visualized version of the 3D character assistant with a unique Smartphone app named Aurora. Users will be able to interact with this assistant emotionally which can't be found of the existing artificial intelligence powered digital assistants.
Aurora brings a complete user experience by visually displaying the emotions right on the display rather than giving out replies in the form lifeless voice. By making use of the Smartphone camera Aurora is able to recognize gesture as well as location of the user in order to offers more personalized and complete experience.
Gaming ads gets revamped with "GADGET"
Gaming ads are quite notorious for simply interfering with core gaming experience and leaving a bad taste for the gamers. Google's C-Lab projects offering GADGET is just designed to make the game ads less intrusive and more intuitive than ever before. GADGET happens to be an innovative real time ad auction platform which helps in offering ads in a seamless fashion without interfering with the gameplay.
It serves ads in form of the native objects like the billboards present in the games. Using GADGET is as simple as drag-and-drop functionality which will be great thing for the developer to get smart ads embedded into their games with just few simple clicks.
Apart from these Google have started a number of other C-Lab projects, which caters to varied fields like music, art and other interactive technologies.
Google is actively trying to make use of the artificial intelligence to enhance the users experience in such areas, which offers immense business opportunities for it. With C-Lab projects, Google is effectively trying to solve the daily life problems with the help of the artificial intelligence.