Blog
Bolt Cutters- Best Buying Guide for You
Bolt cutters are known as bolt croppers. The primary function of this tool is to cut bolts. But it can be used for multiple purposes. You can take help of these tools in terms of cutting chains, or padlocks, or wire. If you have knowledge regarding building trade works, you will definitely realize how valuable this product is. You can use this handy tool for performing several routine tasks.
For example, you can use these for trimming solid core wire, metal shelving, and steel straps. Before determining which purpose you will use it, you need to make sure that you have picked such a model with a good grip. Try to choose those models that offer both control and leverage, and will be able to make your cutting jobs easier.
What are Bolt Cutters :
If it comes to cutting the padlock or you just want to trim the metal chain links while doing the fencing installation, a bolt cropper can come to your help. Usually, this tool comes with long handles and short blades. It helps to decrease leverage and cutting force. You may found several sizes and shapes of this tool.
How Do Bolt Cutter work?
Here we are going to outline a few steps that will guide you to learn how to use this device. Let's check out.
Step 1: Adjust the Tool:
First, you need to turn the bolt on the cutter head correctly so that it can provide the exact tension on blades. In this case, the eccentricity of the bolt helps to achieve the desired tension. It is available in the middle position of the head part. At the point, you will get to see that both the handles are intersected.
Step 2: Mark the Target
Then, you have to locate the item that you are going to cut. In this case, you need to mark that place clearly on the item that you need to cut. Marking helps to know where you have to strike.
Step 3: Open Cutter Blades
Make sure that you keep the handles in opposite directions. Then, you need to open the blades. Try to pull them as far as you can. After that, you need to keep the target between two blades in the middle position.
Step 4: Approach Target
Next, your job is to place the blades on the marked spot. You should always keep the blades close to the targeted area. At this point, the maximum force must be exerted when you start the process.
Step 5: Close Blades
After that, you have to close these blades at the place in which you have marked. But remember that you need to close these slowly. Otherwise, these can slip while using. The firm grip helps you to hold the tool tightly. Besides, you need to make sure that you are not shifting the blades from the marked spot.
Step 6: Apply Force
At last, you need to press the handles with force. Make sure that the tool will cut the target when you come in touch with the marked spot. You need to do it continuously until it cuts through that item. You can get success in your first attempt using softer materials. The heavier ones need to be sustained cutting action.
Tips While Using the Tool:
Usually, you need longer handles when you cut heavier materials. But sometimes, you may face difficulties when you cut through heavy material.
If you need to apply extra force, then you should use the larger models. You need to put on heavy-duty gloves while working. By doing so, you can prevent slipping. Moreover, it will help you to improve your grip.
You can put on safety goggles also. It will keep your eyes protected from small splinters.
Benefits of Bolt Cutter
No mess: Most of the power tools and hand tools usually leave shavings behind. As a result, it will become harder for you to use the tool. But when it comes to bolt cutters, you don't need any cleanup.
Quick work: You can use the Hand saws or any other tool also. These can also make your job done. But these tools may consume too much time. In this case, you will get a significant advantage while using cutters. These can work very quickly and save more time.
Easy to use: It is designed in such a way so that users can get mechanical benefits. The tool needs very little effort to cut through metals. These are so easy to use that even any child can use these. In this case, you don't need to apply any substantial amount of force.
Safe enough: People sometimes use Power tools, Sawzall as alternatives. But these are not so safe. You should always use the Bolt cutters as these cut only the part within the jaws. Besides, these are not going to bounce back and hurt you.
Types of Bolt Cutters
Traditional: These models usually come with all the typical design elements. You can make your job done easily using these types.
Foldable: You can fold these models with ease. However, a few models are there which are hard to store. These types of items have such handles that you can fold upward onto the jaws. Thus, you can reduce the overall length. It helps you to store these in most toolboxes and bags. In this case, you need to compromise your integrity. It is because the handles consist of solid materials.
Extendable: A few models are available in the market that comes with extendable handles. People can use these models in tight spaces. It allows you to handle more quickly due to this fantastic configuration.
However, you can extend the handles to enhance the mechanical benefit. The only drawback is that the handles don't have so much structural integrity, as these are hollow.
How to Choose the Best Bolt Cutter?
Go through the following points to know which facts you need to determine before choosing the best tool.
Size:
You can get these tools available in different sizes. For example, these items come in 8, 10, 12, 14, 18, 24, 30, 36 and 42 inches. You need to choose the exact size as per your needs. It is because the size will determine the cutting ability of the tool.
Small Size:
The tools that come in 8, 10-inch, 12-inch, or 14-inches length, can be categorized in this section. The primary purpose of designing this size is to cut through thinner chains. Besides, the small bolt cutters help to prise off soft or medium hardened bolts. The great Knipex Tools Bolt Cutter is very famous in the case. These are robust enough and easy to carry.
Medium Size:
These models come in 18 inches to 24 -inches. You can use these with both soft and medium-to-hard metals. The medium size models come with long handles. These offer greater leverage that enables you to cut oversized items. You can cut padlocks using these and remove bolts.
Large Size:
If you are looking for a tool that can cut medium-hard metal materials, use those bolt cutters that belong to this range. These models come from 30 to 42-inches. These models are ideal for cutting items like thick steel chains, copper cable, steel rods, large bolts and padlocks. You can get longer handles and super-strong steel jaws in these heavy-duty tools. Tools of this size range offer superior leverage.
Blade Quality: 
While choosing the best one, always try to select those models with strong jaws and the blade edge. Besides, these need to be robust enough and made from steel. It makes you sure that you will get serious cutting power when required. In most cases, people use tools made from forged heat-treated chrome molybdenum steel or chrome vanadium steel.
These materials come with excellent durability and superb strength. However, you don't need to worry about any rust or corrosion. It is because these kinds of materials come with a powder-coated finish.
Robustness: 
Usually, a cutting tool comes with a blade. The design of the blade depends on the Rockwell Hardness Scale. This scale uses an HRC code that lets you know about the hardness level of the steel. In this case, the main rule is that the higher the number, the powerful the steel.
Design of the Handle: 
It doesn't matter whether the handles come in short or long size. These must give you sufficient leverage needed to open the jaws. Therefore, you can grip the tool easily. Besides, it should allow you to cut through any metal with less effort. The ergonomic design of the Handle helps to remove any hand fatigue.
A few models come with thick moulded plastic coated handles. For example, Capri Tools contain or rolled steel handles that come with cushioned non-slip rubber grips and can help the user hold the tool comfortably.
Uses of bolt cutter
People can use this tool for different purposes. For example, to open sea containers, in electrical and building trades, and so on. Also, you can use the tool to cut through metal wires. It allows you to use it in farming, working, etc. Mainly, construction workers use this tool. These help them to do repetitive tasks. For instance, to cut thick steel "rebar" mesh panels, this tool is handy.
The long-handled models are beneficial in preventing the requirements for repeated bending. These models come with very lightweight. Besides, these handles come with cushioned grips. Both these features ensure that it requires less effort to control the tool. Moreover, lightweight handles make the tool portable.
This tool is essential for emergency rescue workers. They need a sturdy item that can easily cut through locks. Besides, it is also helpful to cut through metal obstacles. For cutting plasterboard and accessing wall cavities, this tool is beneficial.
Thieves use the tools while stealing bikes for cutting locks.
Bolt Cutter Pricing
Under $50: Most of the cases, the tool costs less than $50. Try to buy those that price around to $50. Models that belong to this price range can offer better quality.
$50 and More Than It: People who want to use premium quality tools can choose this range product. Professional workers prefer to use these top-grade options for daily use.
Key Features
Solid Construction: The primary use of the tools is to cut through metal pieces. As a result, these tools come with solid construction.
Usually, Jaws depend on its robust design. But, you need to know that these are not the only component that relies on the sturdiness. Because the handles and different pivoting points also consist of high-strength components. It ensures that the tool will be able to prevent failure.
Jaw Design: The jaw and design width will let you know for which purpose you should use the tool. The standard size of a jaw is 5/16-inch. Multiple technicians use these models to cut through the wire. Not only this but also they use these to cut through thin metal pieces.
Grip Length: The length of the Handle is also a dependable factor. A compound jaw design can enhance the mechanical benefit. However, still, leverage is useful. You can use the longer handles. It is because these can make your job easily done.
Other Considerations
Comfortable Grips: Grip design is an essential factor to consider in this case. When you cut through something, you need to apply a certain amount of force. Always try to choose those models which are comfortable to hold.
Foldable Design: Do you want to carry this tool in your bag? Then, you need to invest for such a model that you can fold easily. Those models come with longer handles can offer effective results.
5 Best Bolt Cutters
HK Porter 0190MCD Power Link Bolt Cutter
Description: When you are going to cut through metal, it needs upper body strength. This product is beneficial for this laborious task. It is designed in such a way so that you can cut items effortlessly.
The incomparable design of these bolt cutters for lock allows you to cut through both soft and hard metals. It can cut maximum 7/16 and 5/16 of an inch through soft and hard metals respectively. You can use these to cut through metal rods, wrought iron, etc.
The outstanding design of the product helps to boost the Handle's leverage. Thus, cutting becomes 30% easier. This model comes with large, soft grips. What makes the product demanding is its tubular steel handles.
These prevent the tool from bending. The Handle of the tool helps to keep your hand protected and saves it from blisters. Also, it comes with durable hardened steel blades. These make the product long-lasting.
Awesome Features: 
Usage: People use the tool to cut bolts, rods, screws, chain, baling wire, electric wire, padlock, chain link fences, etc.
Blades: The induction hardened cutting blades increase the lifespan of the tool. It allows you to cut hardened materials.
Less Effort: Compared to other standard models, Power Link permits you to apply less effort while cutting materials.
Pros:
Can be used for cutting screws, chains, etc.
Long-lasting
Fantastic design
Cons:
WORKPRO W017007A Bolt Cutter, 30″
Description: Most of the DIYers prefer to use these tools. What makes this model exceptional is it comes at a very affordable price. The forged steel configuration makes this product durable enough. These help you to cut through bolts, rods, chain, and soft metals.
You can get this product in four different lengths. If you want to cut 5-mm diameter, then you need a 14-inch sized model. For those who wish to cut 12-mm diameter can use a 30-inch model.
The model comes with large grips that are made up of two different materials. In this case, the first one is used to get a non-slip grip. It allows you to control the tool with ease. On the other hand, there is a softer material that offers enough comfort.
Awesome Features:
Build Quality: The product is made of forged chrome-molybdenum steel and comes with powder coated jaws. Both of these help you to cut efficiently.
Design: The Classic lever-fulcrum design of the model makes it exceptional. Besides, it offers extra leverage using the aligned blades. In this case, you don't need to give too much effort.
Grip: It comes with Ergonomic bi-material Anti-slip grips. With the help of these, you can control the tool with ease.
Usage: You can use this tool to cut rods, bolts, soft metal, rivets and chain.
Pros:
Ergonomic Anti-slip grips
Classic design
Awesome build quality
Cons:
Unable to cut padlocks, and master locks properly
TEKTON 8″ Bolt Cutter
Description: This tool is small in size. However, it's a compact design of the product comes with outstanding cutting power. The product is equipped with sturdy alloy steelhead and compound hinge. Both of these features offer maximum leverage.
People who are looking for a durable tool can use this model. It comes with tube-shaped handles that prevent twisting. Besides, it helps to resist bending under pressure. The product comes with soft rubber grips. As a result, you will get enough comforts to your hand. It weighs only 6 ounces whereas the length of the product is 8 inches. This tool can be fitted easily into a tool belt or toolbox.
Awesome Features:
Useful: You can cut wires, cables up to 3/16 of an inch in diameter using this tool. The feature makes the product ideal to cut chains, and so on.
Incredible Cutting Power: The model comes with compound cutting action and drops forged hardened alloy steel jaws. Both of these features offer superior cutting power.
Grips: Now, you don't need to worry about twisting. The tool comes with a robust high-leverage tubular steel handle. Besides, the product comes with soft rubber grips that provide the users with a non-slip comfort.
Pros:
Tubular steel handles
Non-slip grip
Cons:
A few users reported that these products are unable to work effectively.
Neiko 00564A Heavy Duty Bolt Cutter, 42-Inch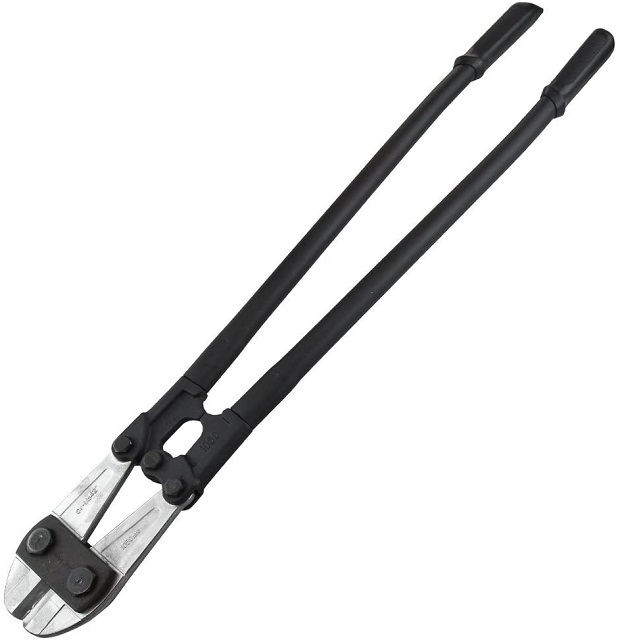 Description: Do you want to buy such a tool that can cut tough locks and chains? These tasks will require a lot of leverage. In this case, Neiko 00564A can be the ideal choice for you. What makes the product exceptional is that the tool can generate a pressure of 4,000 pounds. In this case, it needs only 50 pounds of effort.
This cutting power is sufficient to cut thick materials of up to 10-mm. In other words, it can get through the thickness of 3/8 of an inch. It makes you sure that you can cut regular padlocks easily.
This product is perfect for professionals and DIY usages. People use this product to cut through bolts, chains, padlocks, threaded rods, heavy gauge wires, fencing, etc. This heavy-duty tool comes with a lever-fulcrum design.
The textured grips are comfortable to hold. Moreover, the blade's satin finish offers an attractive contrast to the Handle's black matte finish. It comes with such Jaws that consist of heat-treated, and damage-resistant blades. In addition, the model features moulded non-slip grips.
Awesome Features:
Design: The Cr-Mo steel jaws allow you to cut through hard objects. Compared to chrome vanadium steel models, these are more effective.
Durable: The High-frequency and heat-treated blades prevent the tool from damage.
Handles: It comes with angled non-slip plastic, and textured grips. The grips enable you to control the tool properly.
Heavy-Duty Model: You can cut even the toughest chains, bolts, padlocks using this product.
Pros:
Heavy-duty model
Durable enough
Heat-treated blades are available.
Cons:
Olympia Tools Power Grip Bolt Cutter
Description: The model is available in 42-inch length. It comes with an innovative handle design that makes the tools easy to use. Besides, you can fold the handles of the product. Therefore, you will be able to store the tool easily. You can extend the handles whenever you want. The Power Grip handles offer a lot of cutting leverage in this case.
Now, you will have a less painful experience when you apply much pressure. It is because the handles distribute the applied force equally. Also, the handles include thick rubber grips. These help you to hold the tool tightly. Besides, it comes with a heat-treated forged alloy steelhead. It indicates that you can effortlessly cut many cables and bolts.
Awesome Features:
Compact Design: The model comes in 14-inch length. It comes with patented folding handles that allow you to keep it in your bag. The CR-MO hardened-steel cutting heads & extra-wide handles make this product unbeatable. These features help you to decrease additional pressure on your hands.
Configuration: It is equipped with aligned blades and ergonomic power grip handles. The model can bear even the most challenging conditions.
Long-Lasting: The tool is durable and can last for more extended periods. You can use these in home, garage & industrial projects.
Pros:
Long-lasting
Ergonomic power grip handles
Cons:
Bolt Cutters Buying guide
Many DIYers think that tools having larger size comes with superior configuration. This fact is a little bit true but not appropriate for all cases. Here, we have given a few points that you need to consider before buying the best bolt cutter. Let's check out the factors.
Intended Use:
The tool is beneficial for multiple jobs. These allow you to remove padlocks when you miss keys. Besides, you can use these to cut wire mesh. What makes these tools useful is robustness. These tools can generate more than 4,000 pounds of force. The design of the devices should make them useful for different purposes. For example, you can use it as a cutting tool that can be ideal for cutting cables, wires, piping, sheet metal, and nails.
Size:
You need to check the size of the product while choosing the best model. The leverage depends upon the length of the Handle. Tools having longer handles can offer you more leverage. As a result, these models can provide you with more cutting power. For example, a cutter of size 18-inch can cut through metal up to 9/32 of an inch.
On the other hand, a 24″ bolt cutter enables you to cut almost 5/16 of an inch. However, it depends on the hardness of the material. If you want to cut hardened steel rods, heavy chains, etc., use large models. The maximum range of these models is 48 inches. Also, these tools allow you to cut thick threaded cables of maximum 7/16 of an inch.
Weight:
These tools are available in different weights. For example, you can get these items comes from about 2 pounds to the almost 8-pound weight. Usually, the smaller models of 8-inch weigh 2 pounds. On the other hand, the larger models with 48-inch size weigh only 8 pounds.
Cutting Style:
These are available in different cut styles: angled, shear, clipper, centre, and hydraulic.
Angled Cutting:
Tools of this cutting style come with ahead. This part is placed at an angle between 25 and 30 degrees. It is a perfect angle that helps you in lower cuts. Besides, the style of the tool allows you to cut off nails and screws.
Shear Cutting:
These models come with inverted blades. In this case, the shape of the blades is as same as the edges of scissors. What makes these models unique is the blades remain closer to the marked spot. Therefore, it helps you to cut cables efficiently.
Clipper Cutting:
This type of model contains angle blades coming with a flat side. The unique design of these models helps to produce a high degree of pressure on a specific point. Thus, it helps to increase cutting power. The flat side blades make the models perfect for shearing off nails. Moreover, you can use these to cut through sheet metal.
Center Cutting:
These models come with such blades that remain bevelled on both sides. Besides, the distance of the blades is equal to each other. In this case, when you apply pressure, the blades continue the cutting process until the job is done. People use this type of tool to cut through cables, pipes, and metal rods.
Hydraulic Cutting:
In this case, you can find a motor. It helps to power the cutting blades. Besides, the tool comes with a hydraulically-powered piston. This extra amount of power enables you to cut soft metals with ease.
Handles: When you use the tools, you need to apply a lot of pressure at the starting time. That's why you need to choose such a model that comes with durable handles. You should always try to buy those which offer a comfortable grip. These models can protect your hand from any danger. Moreover, it makes the tool long-lasting too.
Most of the handles are made up of steel tubes. These tubes prevent the bending of the handles. However, a few handles come with padded grips also. It helps to increase the comfort level. Besides, it enables you to control the tool properly. A few handles are available which come with metal stops. These are placed near the neck of the tool.
Adjustability:
In most cases, the bolts are available near the neck and jaws. Therefore, it will help you to adjust the blades. When you turn the jaw, the corresponding blade also moves. The blade, in this case, can both move towards or move away from the joint. When you turn it clockwise, the blades will come closer.
On the other hand, the blades become separated when you turn it counterclockwise. When you manage the position of the bolts, the angle will change automatically. Adjusting the blades enables you to cut metals properly. Therefore, it doesn't cause any damage.
Maintenance:
Always read the instructions given by the manufacturers. It is the best way to make the product long-lasting. Don't try to cut heavy materials with those tools which are not suitable for this purpose. Otherwise, it may damage the blades.
You need to maintain these tools routinely. For example, you should lubricate the joint using oil. You can use WD-40 for this purpose. It helps to clean the cutter and allows it to function smoothly. When you are going to lubricate, you need to spray the oil to the joint. Then, keep the solvent for a while to soak in.
You can also clean the blades periodically. Sharpen them with the help of soapy water and a brush. Don't forget to dry it when the cleaning is completed. Use a soft rag in this case. It keeps the metal protected from oxidizing. Clamp the tool in a vice to sharpen it. You need to use a file or an angle grinder in this case. At last, you can use neck adjusters. It helps to make the blades aligned.
You can find the best bolt cutters in several online shopping websites. Otherwise, you can search on google by typing' bolt cutters near me', and visit your local shop. But make sure that you have checked all these factors before picking your desired model. The bolt cutters Walmart, and bolt cutters amazon usually come in exciting offers and reliability too.
Frequently Asked Questions:
Is it illegal to own bolt cutters?
Yes, it is illegal. But people can sell these in local hardware shops.
Do bolt cutters cut padlocks?
Yes, people use these tools mostly to cut padlocks. It is useful when they want to enter forcefully.
How thick can bolt cutters cut?
It entirely relies on the tool's design. Plenty of tools are available in the market. Every model comes with a specific design. Therefore, these models can offer different cutting abilities.
In this case, the tool's size and the length of the arms are very dependable factors. If the arms are longer, it can generate more cutting power. If you want to cut metal up to 9/32 of an inch, take the help of an 18-inch bolt cutter.
What are bolt cutters used for?
Usually, people use these to cut bolts. However, you can also use these to cut wire shelving, nails, etc. Many people use these to cut padlocks also.
How do you use bolt cutters?
First of all, choose the right place for gripping the metal so that you can move the handles easily. Then try to move the material into the jaws. Do it as much as you can. It will help to increase the cutting force of the tool.
Besides, it will minimize the risk of slipping out of the jaws. While applying pressure, try to pull handles slowly.
Pull them such a way so that it can prevent the material from slipping. Then, you need to apply pressure slowly. Continue the process until the blades cut through it. But make sure that you are not twisting the handles or turning it. If you do this, it can damage the joint or blades.