Blog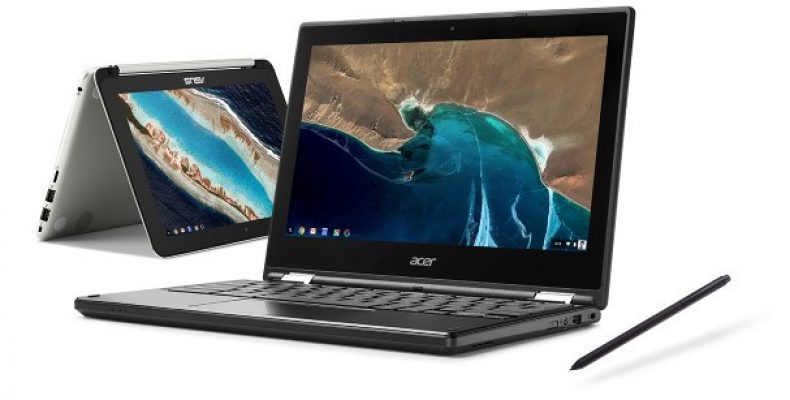 Acer Chromebook Spin 11 Specs, Release Date
Acer Introduces New Chromebook Spin 11 (R751T)
Rugged and versatile, this Chromebook convertible equipped with a Wacom EMR stylus is aimed at students.
In short :
The Acer Chromebook Spin 11 (R751T) is a convertible Chromebook that meets the requirements of US military standards (MIL-STD 810G MIL-STD 810G compliant) and features additional features that make it ideally suited for educational environments
Wacom EMR (Electro-Magnetic Resonance) technology and stylus allow students to write and draw directly on the screen as easily as with a pencil on a sheet
Acer Chromebook Spin 11 features two wide-angle HD HDR webcams Acer: 1 MP above the screen and 5 MP above the keyboard.
The Chromebook Spin 11 includes a 360 ° dual-hinge hinge for four uncompromised modes of use.
Acer introduces the spin 11 Chromebook
Paris, January 24, 2017 – Acer presents its new Chromebook Spin 11 (R751T) on the occasion of the British Education and Training Technology (BETT) Show in London. Designed specifically for use in educational settings, this rugged Chromebook convertible comes with a stylus that uses Wacom EMR (Electro-Magnetic Resonance) 1 electromagnetic resonance technology; versatile, it also offers four modes of use perfectly adapted to the conditions of modern education. Expected upon release to support Android applications from the Google Play Store, the Chromebook Spin 11 (R751T) will easily extend its scope.
James Lin, General Manager Commercial & Detachable Notebooks, IT Products Business at Acer, comments:
"More than ever, today's students and teachers are relying on the power of technology to achieve better results in learning. Acer continues to invest in research and development to create products and solutions that meet the needs of modern education. With our new Chromebook Spin 11, students get a stronger, easy-to-use device; for its part, the teaching team will find in this laptop an economic advantage for their school, which will help both students and teachers to make the best use of new teaching techniques. "
Perfect for classroom use
The Chromebook Spin 11 (R751T) is packed with features designed to make classes and activities easier at school, rather than limiting them.
Equipped with Wacom EMR stylus, students will enjoy the best of technology, but also a truly natural experience that reproduces that of pencil on a sheet. With this stylus in hand, everyone can draw, draw sketches, take notes, record ideas and more; and this in a digital way, while comfort and precision. Heads of schools will also appreciate the fact that the EMR stylus is battery-free and resistant to accidental drops, which limits any additional costs.
In addition, the touch screen of the Chromebook 11 (R751T) is protected by Corning Gorilla glass with antimicrobial properties.
One of the most striking features of this new Chromebook is its double-hinge hinge that opens up to 360 ° and thus ensures optimized touch operation with a well-maintained screen in any mode:
Tent Mode – Ideal for tight spaces (such as shelves on buses or some small desks in classrooms). It is easily used to watch videos and very convenient for surfing the internet and use in touch mode.
Tablet mode – Mobility par excellence. The chassis folds on itself to make it a light and easy to handle device: appreciable to circulate during group work and convenient to carry during school trips. This mode is also ideal for artistic and conceptual projects with the Wacom technology stylus. The second wide-angle HD camera above the keyboard can take pictures and videos like with a tablet.
Screen Mode – Particularly suitable for displaying instructional video content during hands-on courses such as dissections in an SVT course or for applications that do not require intense tactile activity on the screen.
Portable mode – The traditional laptop to make it easy to enter courses and use applications with a full keyboard.
Resistance conforms to military standards
The Chromebook Spin 11 has been specially developed to withstand everyday shocks in school. Adhering to the strict US military standard MIL-STD 810G2, the Chromebook Spin 11 has successfully passed a rigorous battery of tests: it can withstand the shocks and falls of everyday life, whether it is dropped from a table or to be heckled in a schoolbag. Thanks to its reinforced frame structure and its surrounding rubber, the Chromebook Spin 11 can withstand falls of 1.22 m in height. Its design also incorporates an exclusive drainage system that allows it, in case of impromptu drop of liquid, to evacuate up to 330 ml of water out of the important components. Another barrier against damage, the keyboard has embedded keys that prevent students from damaging, removing or inverting.
Full of energy
All of these features are based on a careful selection of components and features that make it an ideal device for administrators looking for a rugged and secure notebook, while being both easy to use solo or in groups .
This Chrome OS-based notebook features an 11.6 "HD IPS display that is highly accurate for touch-sensitive operation. Depending on the version, it is equipped with:
by an Intel Celeron N3450 quad-core processor,
or by an Intel Celeron N3350 Dual Core.
It also comes standard with 4GB / 8GB LPDDR4 memory and 32 or 64GB onboard storage (eMMC flash memory).
Wireless connectivity includes:
Wi-Fi 802.11ac MIMO 2 × 2
and the Bluetooth version 4.2;
wired connectivity includes:
2 USB Type C ports (USB 3.1 Gen 1 – data transfer up to 5 Gb / s, DisplayPort on USB-C and USB charging)
and two USB 3.0 type A ports,
as well as a MicroSD card reader.
The Chromebook Spin 11 (R751T) weighs 1.4 kg, measures 296 x 206 x 20.5 mm (W x D x H) and offers a range of up to 10 30 hours of use.
Obviously this Chromebook will be marketed at around $349.
So here's another Chromebook that will delight all users looking for affordable products! What do you think of the Chromebook Spin 11? Give me your opinion, ask me your questions later in this article.