Blog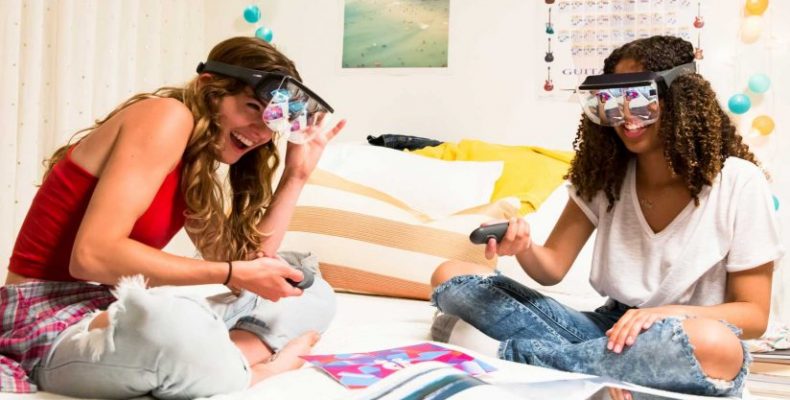 With Prism Headset, Students-Turned-Entrepreneurs Have Augmented Reality in Sight
Mira Prism: Cheap Augmented Reality Lenses Compatible with iPhone
Virtual reality glasses for the iPhone already exist in the market, is not something new. The idea of this Prism type of glasses is to insert the phone inside to make screen and play content prepared for virtual reality. However, Mira Prism, a new glasses that will soon be on the market, offer something different, offer augmented reality.
The idea of Mira Prism is simple, although behind it there is a complex work process. Prism  basically allows us to place the iPhone obliquely on the glasses so that the image is reflected on the glass in front of our eyes. In this way, we will not have the whole view covered but we will see a transparent screen where only the content will be reflected.
Prism lenses and remote work with your Apple smartphone. Just open an application on your iPhone and slide the device into the handset.
Interested in augmented reality? For 99 dollars you can turn your iPhone into an augmented reality headset with a new device called Mira Prism.
Released on Tuesday, the Prism glasses and the remote are designed to work with your Apple smartphone. Simply open an application on your iPhone, slide the device into the lens and you're ready to "start exploring the wonders of interactive holographic content," the company said.
Unlike virtual reality devices such as the Oculus Rift or HTC Vive, which completely block the real world, Prism has clear objectives that allow you to see what is happening around you. The device is compatible with the iPhone 6 and the new Apple phones, offering a field of view of 60º and a resolution of 1,334 x 750.
Mira said that he has partnered with content studios to create a suite of applications and games for RA that will be available for free when the device is shipped. Those experiences "range from solo challenges to multiplayer games, including mixed-reality puzzles, holographic chess games and digital battleships battles," Mira said.
The remote control features a touchpad, trigger and two buttons. Track acceleration and rotation and can be used as fishing rod, laser pointer, brush, steering wheel, or "magic wand."
In a statement, Mira co-founder and CEO Ben Taft called the device "a bridge between the physical and digital worlds."
"As developers, we wanted a way to build and experiment on AR without the need for expensive equipment, and as AR enthusiasts, we wanted the opportunity to play and explore without limits," he added. "We challenged ourselves to build a mobile headset that would make AR accessible to anyone."
At WWDC, Apple announced new tools for software developers to enable them to bring augmented reality applications to iPhones and iPads. With ARKit, developers can create AR applications that work with iPhones.