Blog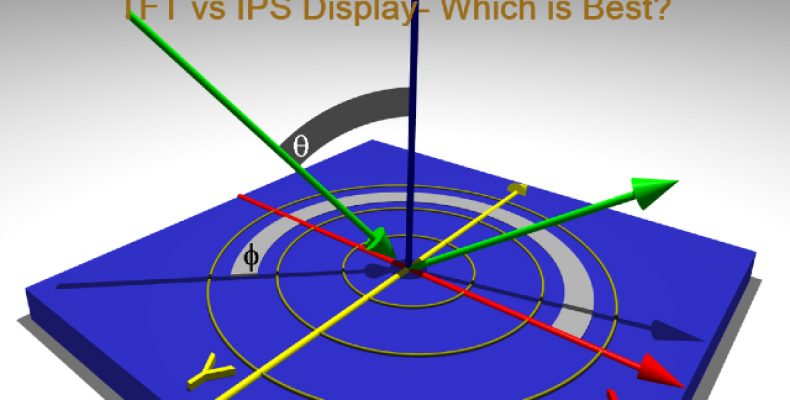 TFT vs IPS Display- Which is Best?
Do you know  TFT vs IPS Display? Are you going to purchase a new monitor? Then, you should decide first the type of display technology you will require. TFT LCD monitors & IPS monitors are the two types available in the market nowadays. Compared to traditional TFT LCD a-si TN display, TFT LCD IPS is better in color conversion and angle view. When it comes to contrast, IPS is the winner.
It is recommended to use LCDs rather than AMOLED or PM OLED screens. The LCD screen is unable to emit light by itself. In this case, it has to take the help of any light source to display. We know it as a backlight. Viewing angle, contrast, response time, brightness, NTSC (color saturation), resolution are a few characteristics of an LCD screen. LCDs brightness especially indicates the backlight, whereas NTSC has a relation with color filters. However, there is no difference between these two when it comes to resolution. Let's dive into the article to get information about these two display technologies.
What is TFT Display Technology? 
TFT is the short form of Thin Film Transistor. People use this technology in LCDs. TFT LCD is an active-matrix LCD. It permits the current that lights the display that is turned on and off faster to enhance the motion smoothly. Besides, it takes the help of thin-film-transistor technology for enhancing image qualities like addressability and contrast.
These are capable of holding some pixels while using others. As a result, the display technology consumes a low amount of energy to work. The function of the technology is to modify the liquid crystal molecules between two electrodes. These come with both transistors as well as capacitors. Each helps the monitor work, taking a tiny amount of energy for vibrating and processing consistent images. You should know that TN stands for Twisted Nematic. These panels are known as Type TFT displays or TN panels, or TN screen technology.
TFT Display Features:
It is fascinating to know that this type is a prevalent type of color display technology. Now, it is very famous in tech circles. We have given here a few technologies that are as follows:-
High-Resolution Display:
It comes with easy monochrome character graphics along with high resolution. Besides, the screen has top color fidelity, high contrast, and brightness, etc. You can get a quick response from this type of video display model.
Environmental Protection:
The raw materials of the display are excellent and perfect for environmental protection. It doesn't cause harm to your health. Besides, there doesn't exist any radiation and scintillation.
Wide Application Range:
People use this display from -20℃ to +50℃ temperature range. You can use the temperature-hardened Thin Film Transistor LCD up to -80 ℃ temperature. If you want, you can utilize it as a mobile terminal display, desktop terminal display, etc. People can use it as a big-screen projection TV. It is actually a full-size video display terminal.
Mature Manufacturing Technology:
Along with having a high degree of automation, the monitor has some large-scale industrial production features.
Easy To Update and Integrate:
The monitor is a combo of both large-scale semiconductor integrated circuit and light source technology. Besides, it comes with massive potential for any development.
Screen Effect:
It comes with a flat right-angle display effect that allows users to have a refreshing feeling. Besides, LCDs can deliver high resolution from others when it comes to small screens.
Bright LED Backlights:
This type of monitor comes with bright LED backlights. It is a common feature of the Thin Film Transistor monitor and is used for mobile displays. The LED backlights come with a great deal of adaptability. You can manage these as per your visual preferences. If you want, you can set your phone to automate mode for adjusting the brightness level. But it relies on natural or artificial lighting at any given place. If you don't know the process of managing the settings on your device, then this feature is essential. It is handy for easier sunlight readability.
Benefits:
This technology consumes less energy which is a significant benefit. It becomes more when you want to use larger screens and complete your work at a lower cost.
You can view the display easily, which indicates there is no geometric distortion. Therefore, it is a perfect choice for your tired, old eyes.
It comes with an exceptional physical screen design and response time.
You can keep the monitor at any place in your office or home. It is because the monitor can display crisp, clear images from anywhere.
Drawbacks:
These can generate distortion, due to which you won't get a perfect picture.
It has a static resolution that you can not change. This can cause an issue. But don't worry, as the latest models come with advanced features capable of tackling the problem.
It is not accurate when it comes to the display of colors. The colors mean especially strong blacks and bright whites. Therefore, when you print any picture, it can be unable to display the color spectrum.
Usages:
It is one of the varieties of liquid-crystal displays that improve picture qualities with the help of thin-film transistor technology. Qualities like addressability and contrast can be increased using this.
People use this type of LCDs in devices such as personal digital assistants, navigation systems, television sets, mobile devices, computer monitors, handheld video game systems, projectors, etc.
You can use it in car instrument clusters for customization. It enables you to deliver an analog-like display with digital elements.
Nowadays, people use the relatively inexpensive twisted nematic monitor. On the TN panels, the pixel response is very quick.
RTC stands for Response Time Compensation. Using this technology, manufacturers can quickly decrease grey-to-grey (G2G) transitions. Besides, it doesn't enhance the ISO response time.
When it comes to limited viewing angles, this display cannot offer good performance in the vertical direction.
While you see the screen off-perpendicular, the colors can be shifted. When you see it in the vertical direction, the colors can shift also.
In most cases, the TN panels show colors with the help of merely six bits per RGB color, or 18 bits in total. But the technology can not showcase 16.7 million color shades (24-bit true color). These can be available from the graphics cards.
The panels take the help of a dithering process to interpolate 24-bit color. Through the method, you can combine adjacent pixels for simulating the desired shade.
People use Frame Rate Control (FRC), which is a form of temporal dithering. FRC can cycle between various types of shades using its new frame. Thus, it is capable of stimulating an intermediate shade. A few times, it is said that 18-bit panels contain "16.2 million colors." Many people prefer to use this color combination panel.
When it comes to darker tones, people prefer to use FRC most. The function of Dithering is to make visible the individual pixels.
What is IPS Display Technology?
The IPS display is the full form of In-Plane Switching. It still belongs to Thin Film Transistor LCD. This variant is popular for its enhanced color, contrast, and black levels. Further, it was designed to resolve the main precincts of the twisted nematic field effect (TN) matrix LCD. The technology offers wider viewing angles along with higher quality color reproduction. It hence switches the pixels to parallel instead of perpendicular.
But this technology is slightly different from the regular Thin Film Transistor in TN (Twisted Nematic) mode. The liquid crystal elements of the monitor are placed in a plane inside the LCD cell during power off. As a result, the light is unable to transmit the cell through the display. When you switch on the monitor, the liquid crystal elements will shift at a small angle.
Doing this allows the light to pass through the medium. After that, the monitor will be turned on when the light passes through the monitor. Hence, there is a relation between the switch angle and the input power value. If the switch angle increases, you will get more light through the monitor. It is known as a negative display mode.
Other Versions:
If you are willing to get a wide viewing angle, then Super Thin Film Transistor is perfect.
You can use the Super-In-Plane Switching version as it can shift color freely. Besides, it helps to improve pixel refresh timing.
For a high amount of transmittance, this advanced Super-IPS is ideal.
If you are willing to get an enhanced diagonal viewing angle, then you should use the Enhanced In-Plane Switching version. It helps to decrease the response time also.
The Horizontal In-Plane Switching version is useful for those who want to get an improved contrast ratio. This version also offers an Advanced True White polarizing film. It is capable of generating a more natural white color.
This display technology of LG seems like that:
In 2007, there came an improvement in the contrast ratio using Horizontal IPS.
The viewing angle got improvements for
Enhanced In-Plane Switching. It also decreases the response time to five milliseconds. Besides, it is also useful for widening the aperture when you are going to transmit light. In 2009, this came into existence.
In 2010, professional In-Plane Switching technology was seen. It delivered a lot of colors, i.e., more than a billion. Besides, the technology also offers more orientations per pixel. However, you should know that the IPS-Pro version is highly advanced as well as costly also.
In 2011, LG Monitor had an Advanced High-Performance IPS in the market. It is best for enhancing the quality of color accuracy, boost the resolution quality, etc. Moreover, the monitor can deliver additional light while it is in lower power mode.
Features of IPS Display:
We have given jete a few features of this technology. Let's have a look at them.
Fast response time with more stability:
We have already told the Thin Film Transistor monitors a swift response time. But it doesn't indicate that this monitor has a slow response time. In fact, you should know that its response time is very much stable and consistent.
Compared to the previous version of the TFT monitor that people used earlier, it has a faster speed. However, no one can differentiate these two types of monitors by watching. When you see the display from each side, you can easily understand the difference.
Wide Viewing Angle:
The narrow-angle viewing experience is the main disadvantage of your screen. When you are going to purchase a monitor for your company, you must look for the features. It must deliver you a wide-angle viewing experience.
These monitors are an enhanced version of Thin Film Transistor ones. Compared to them, the viewing angle is also very wide. While discussing the TFT vs IPS difference, it will be a very positive point. The Thin Film Transistor monitor doesn't allow you to see a picture from different angles until you encounter halo effects, blurriness, or grayscale. These can cause many issues.
It is a very essential and noticeable difference between these two. Therefore, people who want to have the best viewing angles and experience should go with this monitor. It is the widely set screen configuration of this monitor that offers us a versatile viewing angle.
More frequency transmittance:
Whether you are willing to get a wide-angle viewing using the monitor, then ensure that the monitor comes with a quicker level of frequency transmittance. In this case, In-Plane Switching monitors have more significant advantages compared to the other ones. The faster and speedier transmittance of frequencies helps this type of display to become the winner.
You should know that the transmit difference of these two monitors will be around 1ms vs. 25 ms. Now, as a user, you may think that there will be no too much difference in milliseconds. You can judge it only according to your viewing experience. You are indeed unable to see the difference with the naked eye. Therefore, it may become hard for you to decipher the difference.
When you see these two monitors from each side angle, you get to know the difference. If you don't prefer to lag in the display during information sharing at high speed, you must choose this monitor. However, if you want to use advanced apps on your display, then it is a great choice.  Besides, people who want to have a wider viewing angle should also go with this type of monitor.
Improved Representation and Color Reproduction:
Generally, the standard structure of these two is quite similar. Therefore, this monitor has the same primary color for generating different types of shades with pixels. But the process of creating colors as well as shades make these two monitors different.
What makes the vast difference between these two displays is the way pixels get placed and use electrodes. While you take the perspective of the TFT monitor, the pixels work perpendicularly. But it will occur after you turn on the pixels using the electrodes. It is also useful for making sharp images.
However, you should know that the pictures of the monitor are very much original and pristine. This type of monitor can make sharp pictures by functioning the pixels in a parallel way. As the position of these pixels is such that these are capable of reflecting light in an improved way. As a result, users can get an improved image within their monitor.
The monitor of this technology is primarily wide-set. Therefore, the aspect ratio of the monitor will be wider also. It indicates that you will get improved visibility and a more realistic viewing experience with a stable effect.
Advantages:
As you know, this type of monitor has superior color and offers excellent clarity of images. Therefore, it becomes simple for you to install these monitors on the wall in your room. The compact form and low depth allow you to do so easily.
It comes with a higher angle of 170°. To offer enhanced clarity as well as wider viewing.
In this case, images that this monitor makes remain stable and clear. Like other monitors, these displays are not too shiny and sparkly.
These monitors are long-lasting also and have a longer screen life. But it is for the smaller displays. The lower electrical output is the reason behind this.
Due to low power consumption, the release of heat is lower.
You can see colors more vibrant and clear. These are not pixelated types that you can see for other lower quality-type devices.
It has plenty of different variations that can fulfill your requirements.
Drawbacks:
Now, we are going to discuss a few downsides of the display.
When it comes to cost, the monitor has a significant disadvantage. Are you going to use an average Smartphone? It may not be a big difference if you don't require all the fancy coloring and clarity. However, that is why the use of this technology is going down day by day. Whenever demands increase, we invent new things, discover new technologies, etc.
It has another drawback also that you are unable to transcribe correctly or accurately. It can or can not be a deterrent.
You don't always get high resolutions for your private applications. In this case, the brightness is not sufficient when you are in the darkness.
Usages:
This monitor is perfect for Color-critical professional applications.
People who are technology enthusiasts use this type of screen.
It is ideal for higher-level businesses. This one is ideal for your home purpose also.
A few gamers give importance to image quality more than response time. If you're also one of them, then you must use this technology.
TFT vs IPS Display:
We have given here important differences between TFT vs. IPS:
Viewing Angle:
When it comes to Thin Film Transistor technology, the liquid crystal elements are vertical. As a result, a few parts of the lights get blocked while you see this from different directions. In the wide viewing angle, lights get blocked more. It is the reason why you can see the color inversion.
In this case, the liquid crystal elements are not placed in an array. These are available in a horizontal position. When you turn on these elements, the monitor will power on. Therefore, when you see the screen from different angles, the lights may not be seen to you.
Contrast:
Its LCDs have enhanced contrast power than the other ones. The reason is that this monitor is present in negative display mode. Therefore, when you switch off the monitor, the light is unable to transmit. The monitor becomes more black while it is in OFF mode.
The formula of the contrast value equals the fraction of the luminance of display on and the luminance of display off.When you switch off the monitor, it has a blacker background. Therefore, it can offer higher contrast compared to the other one. Due to the high contrast on this type of display, you can get a better color image than that. Compared to a TN monitor, it is a great benefit in technology.
Besides, the In-Plane Switching monitor has more improved color reproduction technology also.
Response Time:
In-Plane Switching monitor has a quick response time compared to this. It happens because of the liquid crystal elements. Inside this monitor, these are available in plain view. When you power on the monitor, all the liquid crystals are switched in one plane.
For Thin Film Transistor displays, when you turn them on, the liquid crystal is twisted. As a result, in this case, the time needs more to switch. It is why the In-Plane Switching LCDs come with a quicker response time than the others. Having a quicker response time allows this monitor to  improve the display "tail." It is helpful mainly while you see videos in fast movement.
Power Consumption:
Compared to the In-Plane Switching LCDs, the Thin Film Transistor ones have more than 15% power consumption. In this case, the array of liquid crystals is also a reason. As the liquid crystal elements are placed in the plane, the monitor doesn't need more power. It is the reason why this type of monitor is better than that in power consumption.
But the monitor has a reduced transmissive ratio. Therefore, when you use this monitor, it requires more light from the LCD backlight. If you want, you can use LED chips also. Hence, you need to have additional power for the LCD backlight. It is the reason why Thin Film Transistor ones require more power consumption.
That is why you should be concerned about the backlight current consumption rather than the IPS Thin Film Transistor panel itself. The LCD backlight consumes more power, not the panels.
Cost:
Compared to TN monitors, the cost of an In-Plane Switching monitor is around 30%~50%. It is because Thin Film Transistor manufacturers are making fewer In-Plane Switching monitors. But the market has a huge demand. That's why the cost of this display is higher.
Production Ratio:
Compared to In-Plane Switching screens, the LCD production technology of Thin Film Transistor is more mature. Therefore, it offers a better production ratio.
Perfect for Touch Screen:
When it comes to adding the resistive touch screen, you can not find any significant difference. While adding a capacitive touch with frame bonding, you can see a gap in the air layer between LCD and this. Hence, you can use glue tape on your LCD frame. If you see it in this way, you won't see any significant difference.
If the capacitive touch is in optical bonding with your LCD screen, then the IPS monitor is better than the other screen. The optical bonding represents a full joint between the LCD screen and capacitive touch. The TFT display allows you to generate "ripple" more easily while touching the capacitive touch display. The array mode of the liquid crystal elements is a reason behind this.
Clarity of Colour:
Before discussing the difference between them, you can say that both monitors come with an excellent and clear color screen. While comparing these two bases on color clarity, both are equal. You can't say that any of these two monitors are lagging. However, you must check the parameter of color when you are going to select the best monitor. In this case, the In-Plane Switching monitor is a clear winner. It is the better crystal oriental arrangement due to which ips monitors have enhanced clarity of color.
It is the reason when you are going to compare these two based on the clarity of color, In-Plane Switching LCD is the champion. The better and advanced technology and structure make it a clear winner in this case.
Different Structures:
The TFT display consists of components like a fluorescent tube, alignment film, liquid crystal material, light guide plate, polarizer, filter plate, a glass substrate, thin mode transistor, etc. For the ips monitor, both poles are available on the same side. These electrodes are present in three dimensions. You can see them on the upper and lower sides.
It can optimize the arrangement of liquid crystal molecules. If you apply any external pressure, the molecular structure can sink down slightly. But the entire molecule is present in a horizontal way.
Image Sticking or "Ghosting":
There is no clear champion hence as it relies on the monitor screen manufacturer. Thin Film Transistor is not facing the problem very frequently. For IPS LCD screens, Image Sticking happens while any picture will remain for a short period.
TFT vs IPS Display Which one is better:
As we have told earlier, that In-Plane Switching display technology is an excellent one. But still, it is a part of Thin Film Transistor. Today, whatever the power of the In-Plane Switching monitor has is for TFT display technology.
For which purpose will you require an IPS TFT screen?
People who are looking to use their monitors for creative purposes should use this display. For example, they can see videos, movies, etc. In this case, as a user, you merely have to mount your monitor on the wall so that you can see it from all viewing angles. People prefer to use this monitor for its color accuracy as well as the best viewing angles.
However, Maclight display can provide off-the-shelf Color TFT display technologies. The available sizes are such as 2.4", 2.8" 3.5",4.3". 5" 7", 10.1". It can modify LCDs to fulfill your unique requirements.
TFT vs IPS Display Bottom Line:
Now, we hope that you can have a perfect understanding of the comparison of TFT vs IPS. Therefore, selecting any one of these two for your company will be easier for you.  In recent times, technology has been proliferating. That's why if you see more advanced monitors in the future, it won't be any surprise. So far, these two improved technologies are marching ahead while comparing on display screens.
STONE offers a range of LCDs from 3.5 inches to 15.1 inches of small and medium-size standard quasi. Along with this, you can get the following:-
LCD monitor
Display industry,
Thin Film Transistor display module,
Industrial TFT LCD screen,
Touch screen industry
Industrial custom Thin Film Transistor screen,
TFT LCD screen-wide temperature, Industrial LCD screen,
People can use the LCD module for these purposes also:-
POS system,
Vehicles and other products.
Electronic consumer products,
Medical instruments,
Industrial control equipment.
TFT vs IPS Display Frequently Asked Questions:
Compared to other panels, in this monitor, the liquid crystals are available in a horizontal way. Thus, these can generate better viewing angles, impressive picture quality, excellent color accuracy, etc. These screens allow you to enjoy super-wide viewing angles along with awesome color.
Do IPS indicate a touch screen?
You can get accurate color from this monitor from all viewing angles. It doesn't showcase any tailing while you touch like other monitors. If you are going to use it for touch-screen devices, then you should use it. For example, it can be used for smartphones and tablets. These panels are capable of giving you precise images as well as stable response time.
Does TFT have any similarity with IPS?
IPS stands for in-plane-switching. It is an improved display module of TFT display technology. Both of these have a few similar primary structures. But the difference is that the in-plane-switching technology comes with a few more enhanced features and more widespread usability.