Blog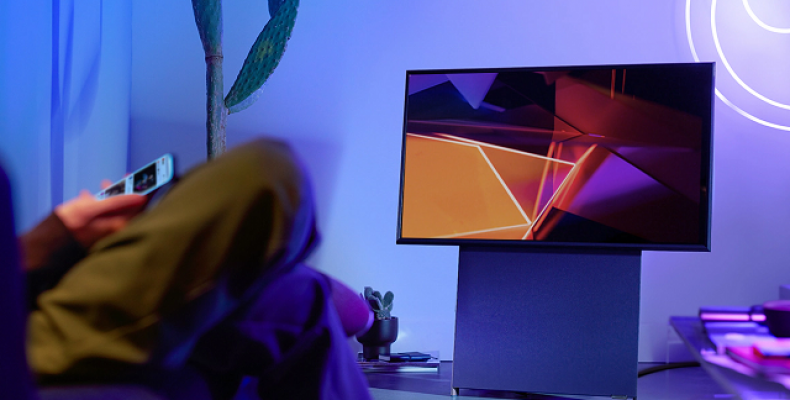 Sero Samsung's Smart QLED 4K UHD HDR TV
Samsung, the South Korean electronics giant, launched Sero, its world's first mobile-friendly Smart TV with a rotating screen to cast the mobile content.
The Sero a 43" QLED 4K UHD HDR Smart TV with 60W multi-channel speakers released. The panel fixed on the top of the stand and can rotate 360 degrees, automatically matching the orientation of the mobile device. In addition,
tThe screen can be turned with the remote control or voice control or with the SmartThings app.
In addition, the Sero well optimized for social media content delivery, streaming service, and gaming. With its artificial intelligence, content can be upscaled to 4k resolution. Assure you, that you can enjoy every bit of your social media stream in spectacular detail, irrespective of the source that delivers the content.
The stand elegantly styled in a navy blue color. Above all, the Sero features a modern design to meet the taste of millennial and Gen Z consumers. To echo the features of a Smartphone, Samsung designed Sero ultra-thin.
Sero was first launched in the UK in June, and it is now available in the rest of Europe and the US.
Samsung Sero 43-inch Ultra HD 4K Quantum-dot Smart QLED TV
With Sero, users can watch their favorite Instagram stories, TikTok Videos, Snapchats, and portrait the videos on a big screen. Inevitably, it brings your home a new aesthetic look. It blends seamlessly into your living room and changes the room ambiance differently with five preset modes – poster, clock, photo, sound wall, or Cinemagraph. Display it in a way you wish, yes, in your style. Premium speaker 4.1ch 60W Speakers deliver premium music with Dolby Digital Plus throughout the room with plenty of basses.
However, the inbuilt active voice amplifier uses audio spatial intelligence to identify the distracting sounds around you and automatically eliminate it through the advanced sound signal processing. QLED 4K UHD HDR Smart delivers a better quality picture with beautiful color to your eyes. Moreover, Sero uses quantum dot technology to give a hundred percent color volume to reproduce realistic colors. Irrespective of the content source, it upscales everything into 4k picture quality by analyzing each frame of your content.
Sero automatically detects the lighting around you, and in the room, in addition,  it adjusts to maintain optimum brightness and contrast ratio for the pleasant viewing. With the in-built AirPlay 2, you can play movies, music, and photos right from your Apple gadget.
With two built-in voice assistants Bixby and Alexa, you can command Sero with your voice.