Blog
Best VR Headset for VRChat
Nowadays, travelling and meeting new people over long distances has become very difficult. But the online platform VRChat makes it possible. It allows you to make friends in the surroundings you wish to be in. This platform is not limited to VR headsets; you can get a wholesome experience using them. This article gives the top five products with a buying guide for the best VR headset for VRchat.
What is VRChat?
It is an upcoming online platform with almost fifty thousand users in its elite community for the last few years. With the help of state-of-the-art technology, you can generate new virtual worlds. Moreover, it enables custom virtual reality encounters with your friends from worldwide.
You can meet strangers worldwide at any given time. Besides, it enables you to shift into multiple characters and avatars. Thus, you can dive into a fantasy world.
On this platform, you can find all characters almost similar and realistic for the great design. It is the technology that takes the platform to a new level. As a user, you never understand how much time you have spent on it because of the hyper-realistic nature of the avatars. In addition, it can provide perfect timing, from lip movements to hand gestures. Therefore, people like to invest time in it.
System Requirements of the best VR headset for VRchat:
The platform does not need any extremely powerful PC. It is fine if the PC can handle these PC-based headsets (HTC Vive, Oculus Rift, etc.)
Operating System: Windows 8.1, Windows 10
The Processor: Intel® i5-4590 / AMD FX 8350 equivalent or greater
RAM Memory: 4 GB RAM
Graphics Cards: NVIDIA GeForce® GTX 970 / AMD Radeon™ R9 290 equivalent or greater
DirectX Version: Version 11
Network: Broadband Internet connection
Storage: 1 GB available space
VR Headsets Features:
Viewing Area:
The viewing area is where our vision meets the display. Therefore, there must have sufficient room in between them. Otherwise, you can feel nauseated and have headaches from extended exposure to an unfocused screen.
Do you wear spectacles? If yes, then you must ensure that there should exist sufficient room to hold them comfortably. In addition, people with sensitive eyes should buy a device with a viewing area where lenses maintain distances from them. It is a vital feature to have, and the reason is that having different distances could cause distress. As a result, you can take a toll on your eyesight in the long run.
Usually, the viewing box room comes in large size and is designed for mobiles. The front end must help you to accommodate the smartphone. If you want to buy a device for your computer or laptop, you should purchase one with a larger viewing box. It keeps you well-ventilated during use.
Material:
Plastic is a common material we use in the manufacturing procedure. But these consist of cardboard. Besides, the lenses use water and synthetic material for the design. Therefore, you must not consider aesthetics only. Instead, you should consider performance and how much it is suitable for your needs. Do you want to buy it online? Then, you should ask the merchant about the specifications before making your choice.
Resolution:
The term represents the pixel count a headset can produce. If your device has a higher resolution, it can offer more detail and clarity. In addition, you get to know how close you are to the image.
Refresh Rate:
It represents frame rates stating the number of images your device can display in any given second. Try to have a high refresh rate because it is vital in virtual reality. Besides, it can provide a stutter-free experience. In addition, it also helps to decrease the chance of motion sickness in the user.
Audio:
Do you want a built-in audio system before buying a model? If yes, you can go with HTC Vive, which features a built-in microphone. It allows you to use it easily and does not need any other hardware to be added on. But it also adds to the weight of the device. Therefore, you have to use them to make yourself comfortable. So, ensure that the model you buy must offer comfort.
Motion Tracking:
It is the most necessary component without which your device will be useless. The feature uses acoustic and graphical sensors enabling you to communicate and interact with other players on the platform.
The lightning-fast precision down to the nanosecond makes it attractive. It allows you to have an even more immersive virtual reality experience. The lip-sync and hand gestures can offer real-time images and videos on the avatar. After watching this, you might need more.
In the day end, you have to buy the model which can suit you most. You should know that the technology used in the best VR headset in VRChat is improving with time.
All models are robust and have flaws. Therefore, you need to know your requirements to make an informed decision while buying a device.
VR HeadSets Types:
Mobile Device VR:
People use Virtual Reality goggles with mobile phones. These come at low prices. You should use them, especially for immersive mobile gaming or watching movies and videos.
But people complaint also against these when they feel nauseous and dizzy after prolonged exposure. So whether you are not willing to spend your money a lot but want to get experience, you have to go with these models.
PC VR headset:
If you are a professional gamer, you need to use an expensive device. Besides, those who are VR fanatics and use high-end PCs can get the maximum immersive experience. In addition, you can use these for conference calls and streaming services. It may seem as if these two types are interchangeable. But you should not use mobile phones with these. Therefore, you need to decide on this before buying the model.
Tips for choosing the Best Headset for VRChat?
Motion tracking and audio are the two most important aspects of the app. When you use a chat app, talking to other people becomes vital. Therefore, you must have a good microphone and decent headphones.
The device's audio output should also be compatible with 3D spatial audio. Motion tracking is a vital feature of the device. The platform is unique because it can recreate hand and body movements. In addition, it can add body language to your chat experience. If you don't have high-quality motion tracking, you will lose it.
You can use a virtual reality system with 6 degrees of freedom motion tracking. It indicates that the system allows you to track six types of movement.
Rolling (side-to-side head tilt)
Surging (moving forward or backward)
Strafing (moving from one side or to the other)
Pitching (front-to-back head tilt)
Elevating (moving up and down)
Yawing (turning left or right)
You will require a system that can track hand movement. When you use more detail in hand and body, it will track the better.
Which one should you avoid?
Technically, it is recommended to use the online platform with a stand-alone device or a phone headset using your mobile.
But these don't come with the motion tracking systems to experience the platform. So we advise you to avoid any model which doesn't have 6 degrees of freedom motion tracking.
How to decide which is the best VR headset for VRchat?
Devices that are compatible with the platform are ideal virtual reality systems. These can offer an immersive experience. In addition, you might get an extensive library of other games and apps. Therefore, none of them will disappoint you.
If you want to get the best, your job is to consider the audio capabilities and motion tracking. You should know that graphics could not make much of a difference. These have good hand controllers. In addition, they have first-rate audio capability. However, some devices have built-in headphones, whereas others don't. We think that motion tracking is the major difference-maker.
Best VR Headset for VRChat Products:
Oculus Rift S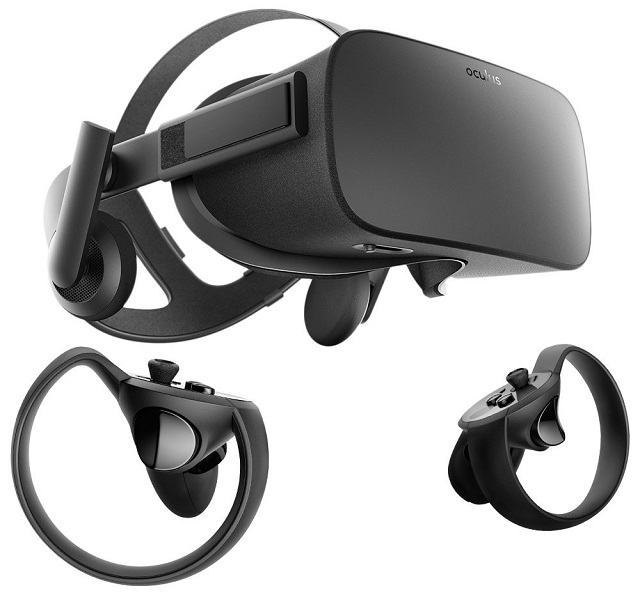 Description: Since the beginning of the commercialization of virtual reality, the model stands at the top. It offers almost all the vital features you may want. Besides, you can get the model available at affordable prices.
The device supports hundreds of game titles. Therefore, you can enjoy multiple games. Furthermore, it has next-generation lenses and a sharp LCD with high pixel density. These features can provide different colours to enhance your experience. Thus, you can decrease any screen door effect.
It comes with a halo headband to keep speed in mind. Besides, the device offers controllers, slash grab, or a simple wave without lags or stutters. If you want a virtual reality experience, the device wants you to sign in through Facebook. However, drawing your hand at the back allows you to lose track of the motion.
Features:
Top virtual reality gaming library: It helps to blast, slash and soar your way. Besides, with the library's help, you can play hundreds of games.
Improved optics: These can provide a reduced "screen-door" effect.
Ergonomic design: It comes in a Halo headband redesigned. Besides, the device can offer comfort with a quick twist of the fit wheel.
Touch controllers: The precise controllers ensure you can transport your hands and gestures at the right time. As a result, it is the best VR headset for PC.
Insight tracking: The device can translate your movements into virtual reality. How you will face and offer room-scale tracking without external sensors doesn't matter. In addition, the device needs your Facebook account to log in. Therefore, you can meet up with friends on the platform easily. Thus, it helps you to discover communities around the world.
Pros:
Insight tracking
Ergonomic design
Improved optics
Cons:
Not compatible with Windows 7
Samsung Odyssey +
Design: This computer-based device can offer the most well-rounded virtual reality experience. The reason is that it is simple to use. Besides, the product lets you plunge into the virtual world head-on through its state-of-the-art display.
It offers a 3k anti-SDE AMOLED display with a wide 11100 field view. Moreover, the concentration of precision LEDs allows you to manage contrast automatically. Besides, the device has built-in AKG headphones, and the spatial sound and mic will enable you to face 'new realities' by immersing yourself in them. In addition, the windows store access allows you to access many game titles and experiences.
The tool has standard controls and no additional sensors or cables to tie you up. A lack of sensors can impair your movements; thus, you can avoid taking the arms behind you.
Features:
Sound: The model comes with a dual-AMOLED display. Besides, it can provide rich and dynamic AKG 360-degree Spatial Sound. You only have to connect it. This device is lightweight and allows you to set it up in minutes.
Seamlessly real: Using a 3K display, you can merge two 3.5″ AMOLED screens. Thus, it can offer a realistic view, and its 110-degree viewing angle can provide a more fluid user experience.
Ready to use: You can set up the device in minutes. Besides, the intuitive controls allow you to have the experience you want. Moreover, these controls are compatible with 6 degrees of freedom (6DOF).
Comfortable: It is very comfortable and lightweight. Therefore, you can play it for a long.
Endless experiences: You can have Windows Mixed Reality experiences on the Microsoft Store. If you want to glimpse your room without leaving the game, you need to turn on the flashlight on the shortcut menu using the Windows button.
Pros:
Endless experience
Comfortable
Lightweight
Cons:
HTC VIVE Pro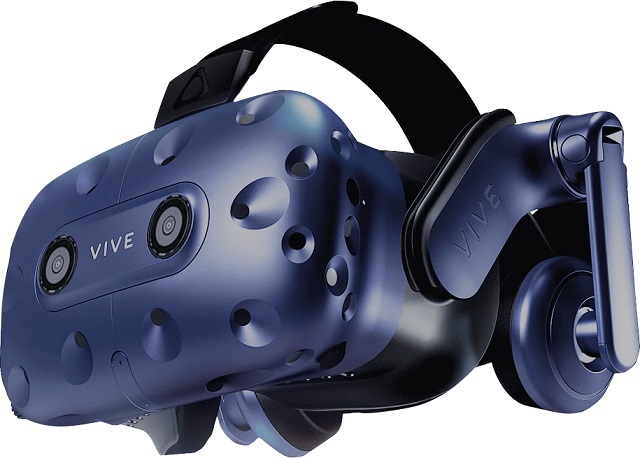 Description: This option is excellent for you if you want to invest extra money to get a premium experience. The exceptional range of motion and comfort make it ideal. Besides, you never see peripheral boundaries dragging you out of the experience.
It is famous for its in-game text clarity. Besides, the device can offer clear text between games or worlds. Sometimes, big companies lag in providing it. The dual OLED display, Stream VR 2.0 tracking, multi-user use, and spatial audio and noise cancellations are some features it offers. But it is hard to set up. Besides, you need to maintain it accurately, putting great effort.
Features:
Steam Tracking: The device is perfect for multi-user environments for sub-millimeter tracking accuracy.
Display: Its Dual-OLED Displays have a resolution of 2880 x 1600 pixels. The device can offer unparalleled visual fidelity of graphics, text, and textures.
Noise cancellation: Hi-res, high impedance headphones, 3D spatial sound with active noise cancellation can offer you a great experience. This is unique because they don't distract you from real-world sounds.
Versatile: You can turn it on and off easily. Besides, it allows you to adjust it to your head size, glasses, and interpupillary, mas distance.
Vive Tracker Ecosystem: It enables you to add real-life objects to VIVE Tracker. Thus, it helps to bring the object into the virtual simulation. The model is perfect for motion capture, automotive, aerospace, or heavy equipment simulation. In addition, it enables you to play more than seven hundred games for two months.
Pros:
Vive Tracker Ecosystem
Versatile
Dual-OLED display
Active noise cancellation
Cons:
Oculus Quest 2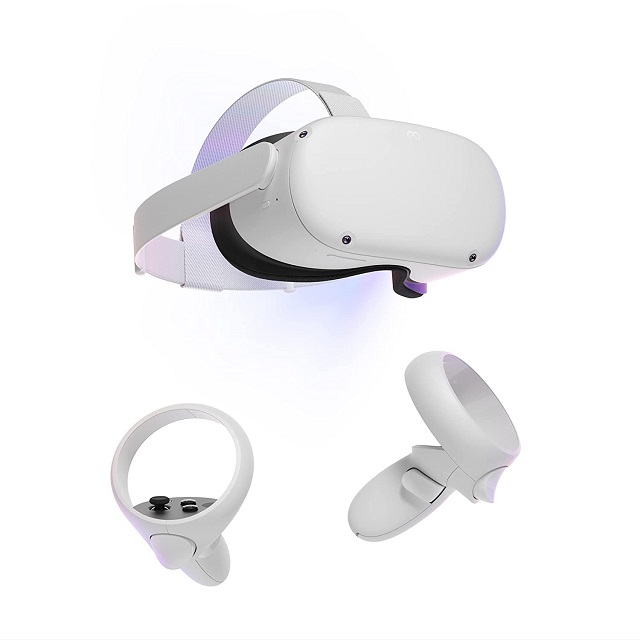 Description: The product has an upgraded design, display, and a faster processor. Besides, it is a bit lighter. Therefore, you will notice it on your head after activating your avatar.
Furthermore, the wireless model does not hold you down like a puppet connected to a PC.
You need to enable PC tethering to increase the graphic performance. The device has a user-friendly android OS with a snapdragon processor and 8GB memory. Besides, its new Quest is compatible with 50% more pixels. It helps to create mates with enhanced image clarity. In addition, you can set up this system easily. All credit goes to the android capability allowing you to chat in virtual reality within minutes. You can find many stand-alone games restricted to mobile hardware. However, it has a short battery life of 2-3 hours.
Features:
Next-level Hardware: The blazing-fast processor helps to count every move. In this case, the highest-resolution display is also helpful.
All-In-One Gaming: The device is backward compatible. The expansive Quest content library allows you to explore new titles and old favourites.
Immersive Entertainment: You can get the best place for live concerts, groundbreaking films, exclusive events, etc.
Easy Setup: You only have to open the box and set it up with your mobile app. Then, go into VR. Hence, you will not need any PC or console; all it needs is wireless internet access and the Oculus app. You can download the app for free.
Pros:
Simple set up
Wireless internet access only
All-in-one
Cons:
Valve Index
Description: Are you a professional? Then, it is ideal for you. The product is famous for its visuals and audio quality. Besides, it offers a 144Hz refresh rate and 130-degree field of view.
Features:
Design: The product becomes unique for its premium built and ergonomic adjustment design. These features ensure that you will get the ultimate comfort while using. In addition, it has a speaker that can turn out into an off-ear outlet, and it can enhance your sensory stimulation.
Controllers: These controllers are famous for per-finger tracking. Besides, these can provide high-fidelity and excellent battery life.
Pros:
Good controllers
Ergonomic design
Premium built
Cons:
The display port requires a special monitor
Best VR Headset for VRChat Buying Guide:
Do you want to buy your model for only VRChat? Or have you planned to use it for different games and media? You have to check your hardware compatibility for every game. Thus, you should ensure that you have chosen the correct one.
Check PC hardware requirements:
Multiple high-end, PC-tethered devices have specific system requirements. If you want to use the devices, you must fulfill the requirements. For instance, Valve Index needs a system with Windows 10 OS, a dual-core processor, or better. Besides, it requires at least 8GB of memory and a GPU with the minimum processing power of a GTX 970 or RX480.
In addition, it requires the recommended power of a GTX 1070 or better. Ensure that your PC is ready to power your new device before buying a headset.
Price:
While using HTC Vive Pro and Google Cardboard, you can find a significant difference in performance. For example, you can see the difference between a premium VR experience and a normal experience. Therefore, you should know how much money you want to spend and the type of experience you want.
Design:
Comfort is also one of the vital factors to consider apart from the price point. Sometimes, the chassis is uncomfortable on your head. Therefore, it is of no use though the price is very high. Design is responsible for your wearing comfort.
Ensure that your device comes with adjustable straps and headbands. If you want, you can attach external gear to the device. But it may be a nuisance. Research says that it relies on the individual. Whether they don't hinder your chatroom experience, the extra wires are more than fine. In addition, the external cables help to enhance performance. These boost the area of activity by making it more precise.
Wireless:
You can use a wireless model, but these are accessible to limited titles. Besides, these have less battery life. Sometimes, the additional cable ware might appear troublesome and take a lot of space. But it is useful for positional tracking. In addition, you can enhance the monitoring while having easy-to-use controllers.
Use a device that features an ergonomic design. If a design makes the virtual world un-liveable, you must ignore it. The noise holes are one of the common examples. In addition, multiple devices enable some light to come in through. As a result, the entire viewing experience gets disrupted.
Comfort and Adjustments:
The VRChat online platform involves long sessions for the type of game. Therefore, you should buy a device that offers good comfort features. For instance, it must feature sufficient and well-placed padding and be adjustable. Besides, it should come with well-made headbands to relieve pressure. In addition, it needs to have a balanced weight profile across the head.
Moreover, the device must consist of solid materials yet be lightweight. All these features are available in the Valve Index and PlayStation VR. Therefore, you can say that these will offer comfort after the first minute you wear them, and these continue to provide the same comfort for hours into a play session.
Audio and Display:
The best device should deliver a premium virtual experience to the users, and it is about user immersion. Your model should keep you detached from your current surroundings. Besides, it should help to aid in metamorphosing into your avatar.
In addition, the field of view is another feature making the virtual world wholesome. Try to use a device covering a wider view. It is because the camera helps to capture more area. A high-end model comes with a field view of 100 to 110 degrees. Moreover, it should support precision eye-tracking. Thus, you become more in tune with your current surroundings.
Display resolution is a deciding factor that makes or breaks a model. The resolution per eye can portray the width and height of the view, and it is the pixel number that your device can display. Never use a device with lower resolution as it provides less crisp imagery. In addition, low resolution and broken frames can cause problems for your eyesight.
System Setup:
System setup is one of the factors you must want to consider in your mind. Your product should make your life easy.
Remember that a smooth virtual reality experience depends on the PC. Therefore, you should ensure that you have got the PC. Also, ensure that your PC supports you before selecting a device.
A sub-par PC doesn't offer an optimum virtual reality experience and does not depend on any high-end model. Your PC should have Quad-core CPUs boosted with NVIDIA GeForce card and a minimum of 8GB of RAM to ensure your PC will perform well.
Final Thoughts:
Choosing the best VR headset for VRChat enables you to spend quality time with people from different worlds. Enjoy a virtual world where no trouble is there. You can enjoy anything you want. For example, you can make a hangout area yourself, providing you with an immersive out-of-this-world experience.
Frequently Asked Questions:
What VR headset does Roflgator use?
Oculus Quest is the one that uses it.
Which VR headset has full-body tracking?
HTC Vive Tracker (3.0) has full body tracking.
Can you play VRChat on your phone?
You can play the recent version of iVRy (1.08). It is because it will work with the platform. The feature enables you to use iPhone or Android phone to view the online platform in "VR" mode.