Blog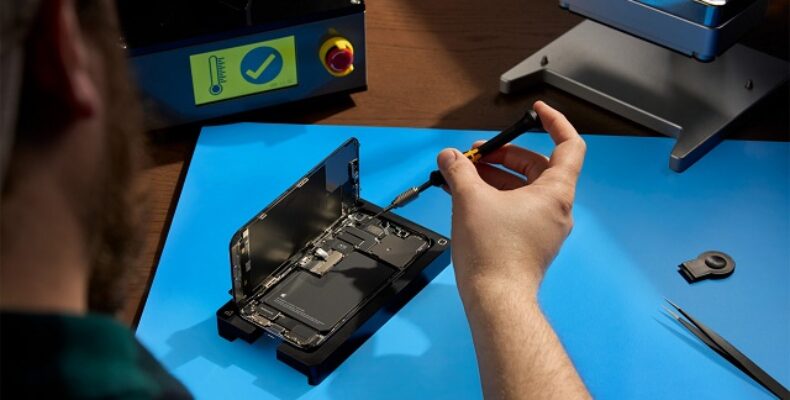 Apple Self Repair Service
Apple recently announced that the self repair service is available. It offers repair manuals, genuine Apple parts, and tools via the Apple Self Repair Service Store. The service is in the United States already and will expand to Europe countries — later this year.
The digital store provides more than 200 individual parts and tools. Suppose you are one of the experienced customers who is familiar with the complexities of repairing electronic devices. In that case, you can finish the repairing process on the iPhone 12 and iPhone 13 lineups. Besides, it allows you to complete repairs for iPhone SE (3rd generation) like the display, battery, and camera. The program will come with manuals, parts, and tools later this year. These will help you to perform repairs on Mac computers with Apple silicon.
What to do to start the Apple Self Repair Service process?
If you are willing to begin the process, you have to navigate to the support.apple.com/self-service-repair site. Then, your task is to review the repair manual for the product you are willing to repair.
After that, you need to move to the Repair Store and order the essential parts and tools.
Each Apple part and tool is made for each product. Then, it undergoes extensive testing to ensure the highest quality, safety, and reliability. You can get the parts available from Apple's network of authorized repair providers.
People who are experienced and know how to deal with it can get access to genuine Apple parts, tools, and repair manuals. As a result, they can repair themselves. If you want to know how to perform out-of-warranty repairs for the iPhone ( display and battery replacements), go through the method.
Begin with the repair manual:
Your first job is to go through the manual to know the steps essential for you. Besides, it lets you know about the parts, tools, and materials necessary for your iPhone model and repair type. If you are willing to buy the actual Apple parts and tools, you must use the repair manual ID, which is available in the manual's introduction.
Order parts and tools for an Apple product repair:
You should buy actual Apple parts or professional-grade tools by visiting the repair store. A third-party provider authorized by Apple operates the online store to sell genuine Apple parts and tools.
The professional-grade tools can tolerate the rigor of high volume and helps to repair the items safely. It is essential to have a product serial number or IMEI for actual Apple part purchases.
Once your order, your job is to check the purchase status from the Self Service Repair Store.
Repair your device:
As soon as you receive the actual Apple parts, you have to go through the technical instructions in the repair manual.
You may need to undergo a system configuration step at the end of the repair. Using the post-repair software tool System Configuration, it becomes possible to complete the repair for genuine Apple parts. According to the repair manual, you get to know if it is essential. In this case, you can contact the support team by chat or phone to initiate System Configuration.
Return replaced part for recycling:
Like Apple Authorized Service Providers and Independent Repair Providers, you can return used or damaged parts to Apple during the repair. It is helpful in refurbishing or recycling.
You can receive credit while returning a replaced part from an Apple device. If you are willing to know more details, go to the Self Service Repair Store.
The tools can offer the best repairs for Apple products. Names of a few high-quality tools are a $99 torque driver, a $216 press for display screens, repair trays, display, and battery presses, etc. The company will provide tool rental kits for $49. It is for those who are not willing to buy tools for a single repair but can access professional repair tools. People will get the weeklong rental kits for free.
In most cases, users do not know how to repair electronic devices and are not experienced. Hence, they should go to a professional repair provider and take the help of certified technicians. These technicians use actual parts safely and in the most reliable way.
The company has doubled the service location number over the last three years. It offers access to genuine Apple parts, tools, and training to more than 3,000 Independent Repair Providers. Over 5,000 Apple Authorized Service Providers are there who support over 100,000 active technicians. It is why most Apple customers live within twenty minutes of an authorized service provider.
The company has published a paper containing information on its approach to designing durable products and boosting access to repairs. If you are an iPhone owner, it is possible to select and order parts, and you can mail in your old parts for store credit. Even if you are willing, you can rent out repair tools for $49 per week. Therefore, there is no need to purchase special gear for fixing your phone.
The store offers displays, batteries, speakers, camera modules, SIM trays, and Taptic engines. Besides, it can provide different miscellaneous spare parts, including bolts and screws, for instance. If you want to go for an iPhone 13 display bundle, including the display, screw kit, adhesive, and security screws, you need to invest $269.95. Besides, you can have a spare battery bundle for $70.99.
The bottom line:
Whether you are unwilling to buy an expensive tool, it is better to rent a customized kit. You can get all the tools available in the kit. The kits are very heavy and available in one or two boxes. Therefore, the company recommends a few strategies to lift them, like "Think before your lift" and "Take your time." As soon as you decide what you require, the company will deliver all the things you have ordered to your home. According to the company, if you repair your mobile with parts from the Apple Self Repair Service, it won't void the warranty via any hardware damage.